Boeing Co (NYSE:BA) might just be the hottest Dow Jones Industrial Average stock these days. Its ascent has gone from gradual to steep to straight-up parabolic. However, Boeing can't fly forever. Even the biggest and best 747s needs to land for refueling. And BA stock is no different.
But therein lies opportunity. See, we can profit from its pullback while cash-flowing any consolidation.
One of the more curious developments in the marketplace of late is the stark divergence between large caps and small caps.
Led by BA's strength, the Dow Jones has powered higher over the past four trading sessions.
Meanwhile, the Russell 2000 has fallen over the same four days.
Such a persistent divergence is rare and, thus, unlikely to last.
It can resolve itself in one of two ways.
Either small caps shed their weak ways and begin rallying alongside Papa Dow. Or, large caps fall prey to the selling that has so thoroughly inflicted their smaller counterparts. In light of the profit-taking that is also striking tech stocks (the Nasdaq Composite fell on Monday alongside the Russell 2000), I'm inclined to think it's the latter.
And any selling that strikes the Dow Jones is sure to weigh on BA stock because … well, it's the largest holding in the index.
But while I think the Dow could stumble, today's trade idea isn't solely reliant on that. BA stock is a fade on its own right. Just look at the charts.
Boeing's Charts
With Monday's surge to a new record of $246.49, Boeing lengthened its win streak to seven straight up days in a row. And in the past four days, BA has rocketed 14% higher. Monster volume has accompanied the past week's post-earnings climb.
But even stocks under the strongest accumulation can't defy gravity forever. At some point demand will dry up, supply will swell and BA will experience a garden-variety pullback.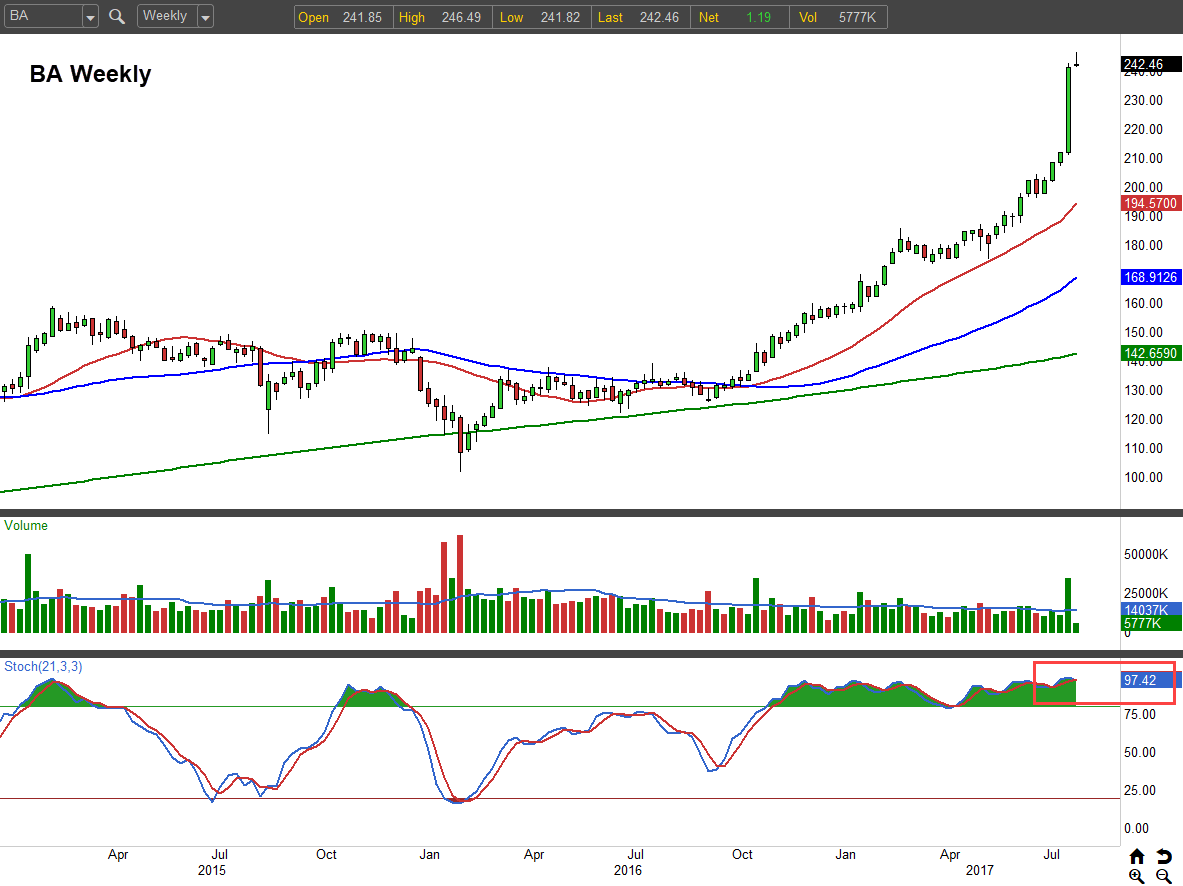 Source: OptionsAnalytix
Just in case last week's enormous green candle wasn't convincing enough, BA is flashing some serious overbought signals on the weekly Stochastic at 97.42. Since the popular oscillator tops out at 100, its reading is about as extreme as it gets.
While that doesn't guarantee that a downturn is imminent, it does suggest Boeing stock is overdue for at least a pause.
Top picking is always tricky, particularly if oscillators like the Stochastic are your only tool. But, that's why it often pays to wait for bearish candles to materialize — like what just happened during Monday's trading session.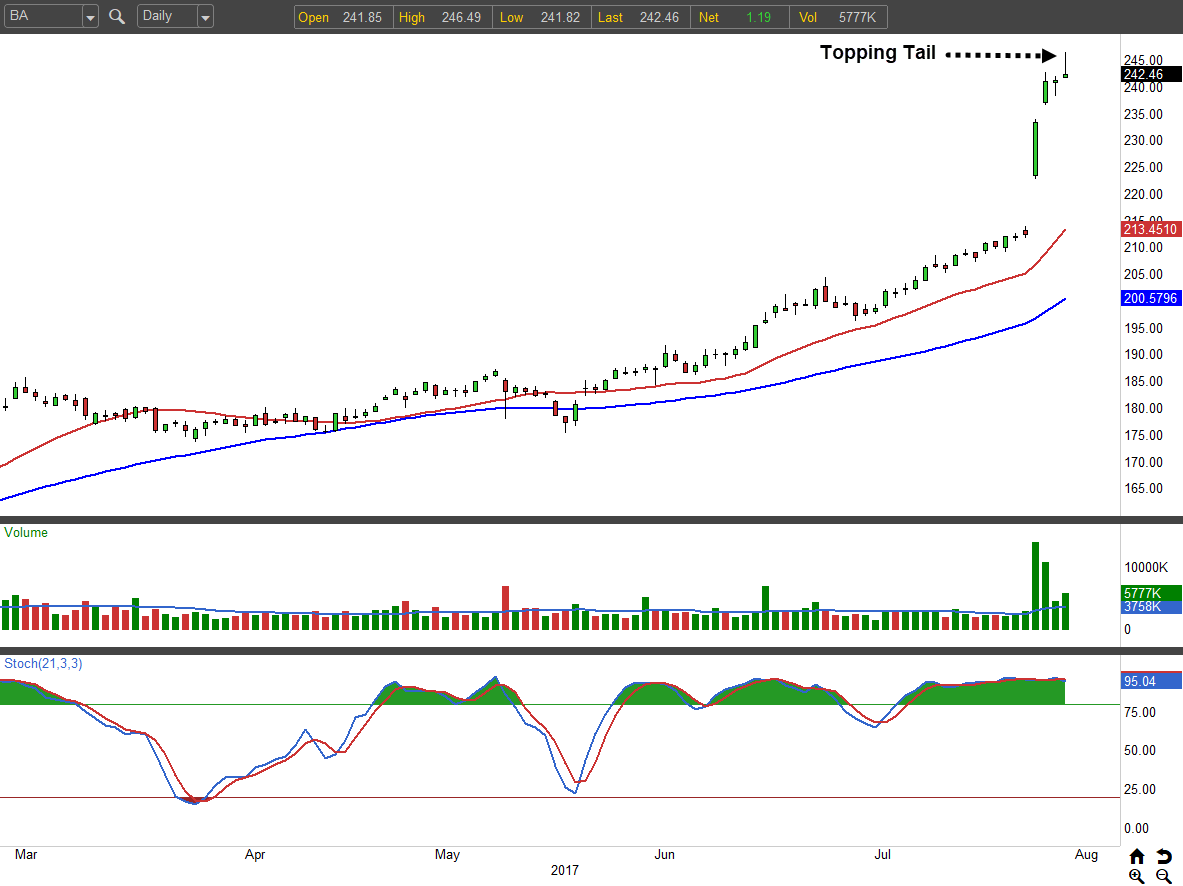 Source: OptionsAnalytix
Despite a valiant start to the day, the rally in BA shares fizzled by the end of the day creating a prominent topping tail. This long upper wick suggests buyers may have finally run out of steam. And while contrarians are hoping for a big drop, all we need for the trade idea below to flourish is some sideways action over the coming weeks.
The Trade on BA Stock
If you're willing to wager Boeing finally drops or at least pauses for a bit, then sell the Sep $250/$260 bear call for $1.84. This position is designed to profit as long as the stock sits below $250 at expiration. Rather than riding until the bitter end to capture the entire $1.84 profit, however, I suggest bailing early if you can buy back the spread at 90 cents or lower.
The max risk (and cost) of the trade is $8.16 and will be lost if Boeing stock rises above $260 by expiration. To minimize the damage you could exit if the stock rises to the short strike of $250.
By risking $8.16 to capture $1.84, the potential return on investment is 22.5%.
— Tyler Craig
FINAL CALL: Claim Your 15 FREE Options Trades!
[sponsor]
Get 15 FREE trades - all of them easy-to-execute options offered by any broker - emailed right to your inbox! Offer expires in 36 hours -
click here to accept!
Source: Investor Place