Blue chips ended last week on a positive note, with the Dow Jones Industrial Average scoring yet another all-time closing high at $21,830.31. Credit for continued optimism in the land of big-cap goes in large part to Boeing Co (NYSE:BA), which shattered earnings expectations and pole-vaulted higher.
At $241.27, BA stock now boasts the highest share price of all Dow components. But not all members are feeling the love. Home Depot Inc (NYSE:HD) has fallen out of favor, and it appears more pain awaits for HD stock.
Weakness in Home Depot is a relatively new phenomenon.
Before mid-June, the home improvement retailer was firing on all cylinders.
But since then, distribution days have haunted its steps.
The widespread optimism buoying the equities market hasn't helped HD at all.
While the company's next earnings report — due out Tuesday, Aug. 15 — may prove the catalyst to reignite buyers, we have two weeks before it arrives.
And the bearish technicals have me thinking we could see more pain until then.
HD Stock Charts
To avoid tunnel vision, let's first address Home Depot's weekly chart. This provides a sense of the bigger picture and clarity as to just how much damage sellers have (or have not) inflicted on the longer-term trend.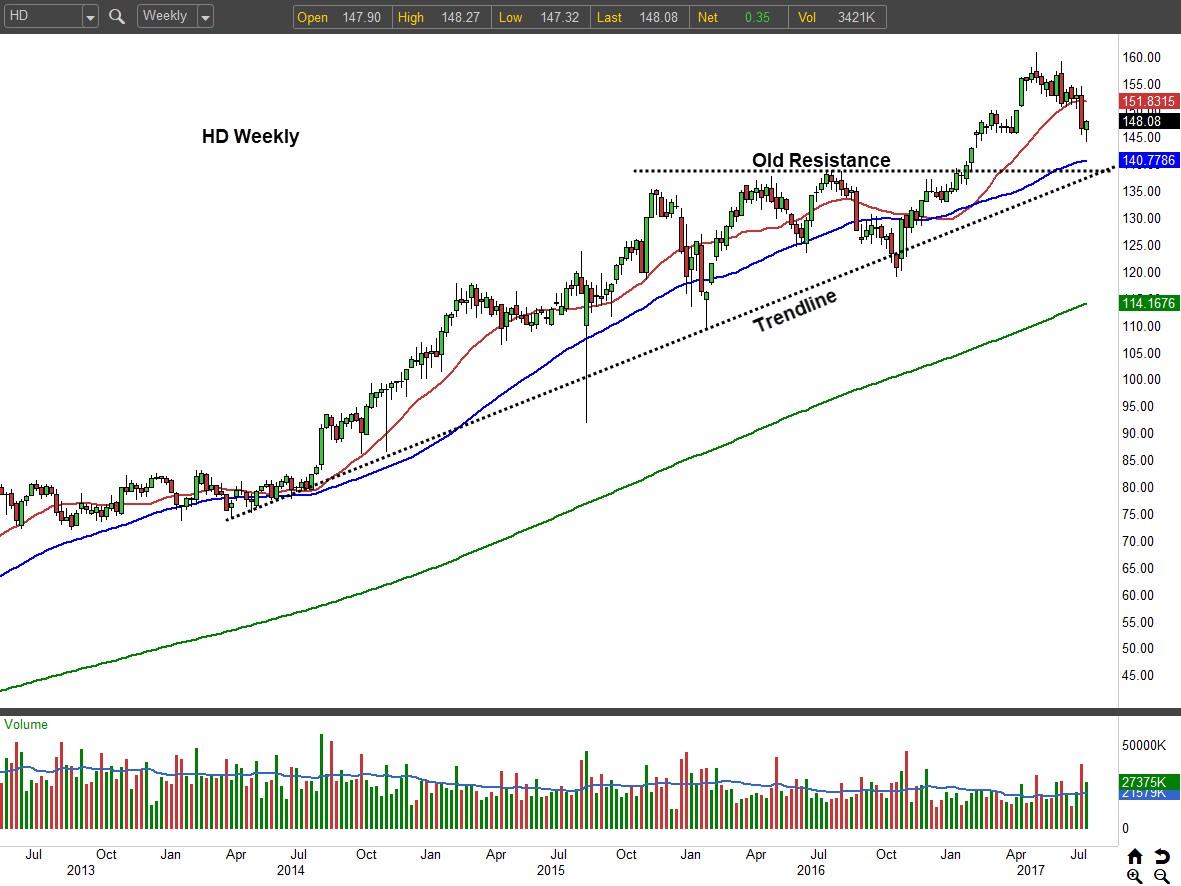 Source: OptionsAnalytix
At first blush, it seems those dastardly bears really haven't hurt the weekly uptrend at this point. HD stock is down 8% over the past six weeks but has yet to break any major support levels. In fact, we're perched right at a minor support level ($146) heading into next week.
If sellers press their advantage, we could see a deeper retracement to the $139 level, which is an old resistance level as well as a major trendline.
The reversal in Home Depot's short- and intermediate-term trends is better showcased in the daily chart. Note the rolling of the 20-day and 50-day moving averages over the past month. What I find particularly troublesome is the quintet of distribution days that have cropped up in recent weeks. Heavy participation by sellers tends to linger, weighing on Home Depot stock for days to come.
And this episode may prove no different.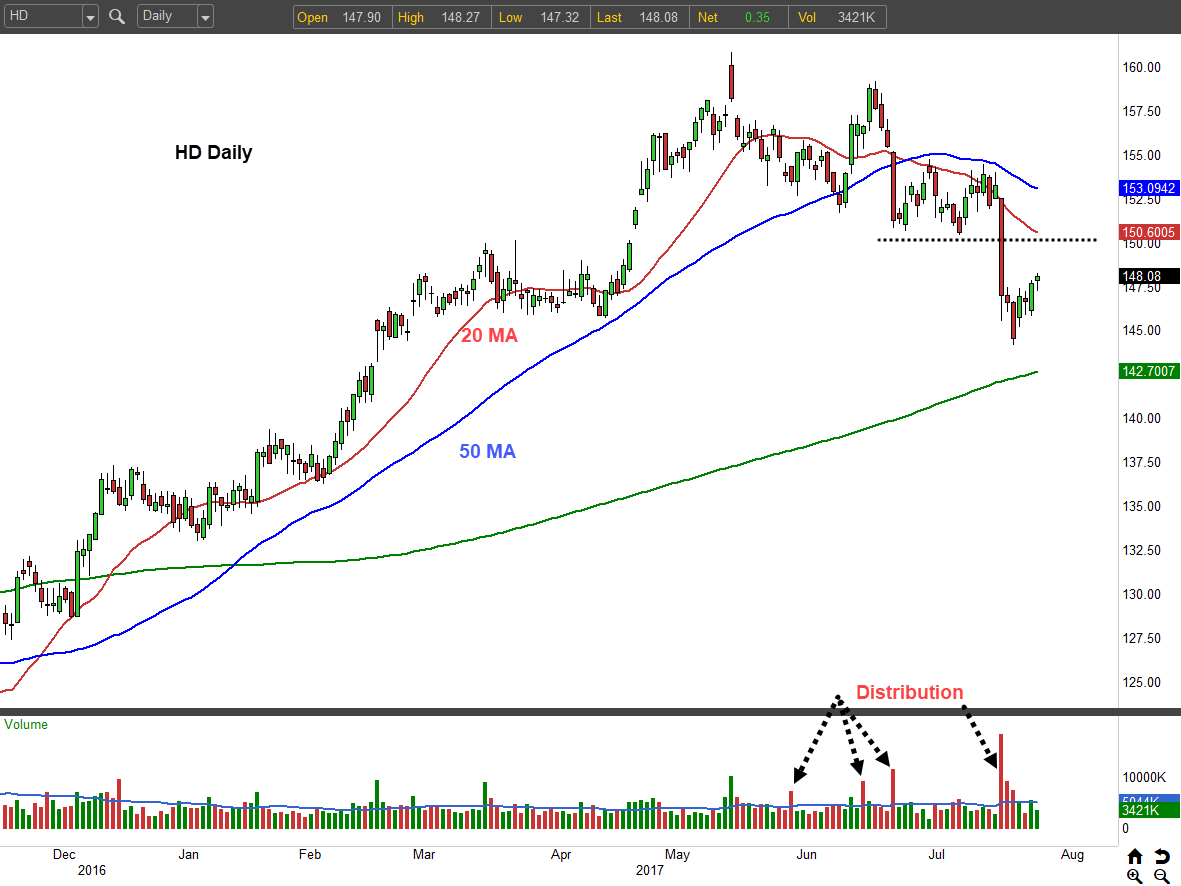 Source: OptionsAnalytix
Nasty volume patterns aside, rallies like what HD experienced last week are always suspect during periods of falling 20-day and 50-day moving averages.
While we could see continued strength into the $150 zone, I consider a rally past that to be unlikely in the short-run.
How to Build Profits on HD Stock
The June 20 plunge in HD shares lit a fire under implied volatility. Since then, demand for options has receded slightly, but the IV rank still sits at 50%. With earnings looming on Aug. 15, I don't expect to see too much of a drop back in volatility.
On the bright side, the pumped-up premiums are allowing us to go far out-of-the-money for bear call spreads. This creates a wide profit range giving us plenty of margin for error.
Sell the Sep $155/$160 bear call spread for 69 cents or better.
If Home Depot can remain below $155, the options will expire worthless allowing you to pocket the entire premium. Ideally, we'll see another rollover in the stock before earnings which will allow us exit with the bulk of the profits in tow. If you can buy back the spread anywhere near 30 cents or less before Aug 15th, I suggest doing so.
The potential risk for this vertical spread is $4.31. You can exit well before that much damage is inflicted though. A break above $155 is a good time to jump ship for those looking to minimize losses.
In timing the entry I suggest waiting to sell the call spread until HD drops below a prior day's low. Right now that would be Friday's low of $147.32.
— Tyler Craig
The Ultimate Marijuana Stock to Go Ballistic in the Next 90 Days
[sponsor]
Recreational marijuana is set to become legal in Canada this fall. And the result will send this stock soaring. If you act quickly, before most Americans catch on, you, could turn every $10,000 you invest into $30,000, $40,000, $50,000, or more. This Special Report reveals the No. 1 Marijuana Stock to Buy Now -
Read It Here.
Source: Investor Place