Citigroup Inc (NYSE:C) tends to make the fewest waves among banking's Big Four, but C stock is sticking out right now in the best way possible: as a candidate for a long play.
Stocks closed out last week on a high note. The Dow Jones Industrial Average and the S&P 500 popped to new record highs Friday. And while the Nasdaq has yet to reach record territory it's done a tremendous job of healing the damage inflicted during last month's tech wreck.
Indeed, the technology laced index is now up six days in a row.
But it was banks that captured the limelight on Friday.
A hat trick of heavy hitters that included Citigroup, JPMorgan Chase & Co (NYSE:JPM), and Wells Fargo (NYSE:WFC) released earnings giving investors a fresh batch of fundamentals to mull over.
While they all gapped lower due to profit-taking, buyers quickly swooped in, and by day's end the losses were marginal.
With the bid underneath banks now tested and confirmed, it's as good a time as any to initiate bullish plays in the bunch. The technicals in C stock look the most attractive to me, so that's where we'll focus.
One of the other reasons why financial stocks are interesting here is because unlike many of the other sectors which rallied throughout last week and are now nearing resistance, the financial sector retraced to a support level. Buying dips is always preferable to chasing rallies from a risk-reward perspective.
Let's use the Financial Select Sector SPDR Fund (NYSEARCA:XLF) to chronicle the pullback; then we'll jump into Citigroup's stock chart.
The Bid Beneath Banks Lives On
Since beginning its ascent anew in early June, XLF has been on its best behavior. The developing trend is dragging the 20- and 50-day moving averages higher. And buyers have now stepped up twice to defend their turf right at the 20-day moving average.
I don't think it's a coincidence that Friday's gap lower halted right at the $24.60 level. In addition to the moving average, it's also an old resistance level that has now become support.
Source: OptionsAnalytix
Let's keep it simple. As long as XLF remains above $24.60, it's game on for bullish plays. I think Friday was a critical test. Weak hands used the earnings release as an excuse to ring the register, and the down-gap was aggressively bought.
With that type of bid beneath the surface, it's tough to bet against financials here.
Citigroup Stock Charts
As solid as XLF has been, Citigroup has been better. The stock scored a rousing breakout in early-June and hasn't looked back since. C just saw its Relative Strength Index (RSI) pop above 70 for the first time this year on its weekly chart. And in case you didn't know, it takes big-time strength to drive the RSI into overbought territory.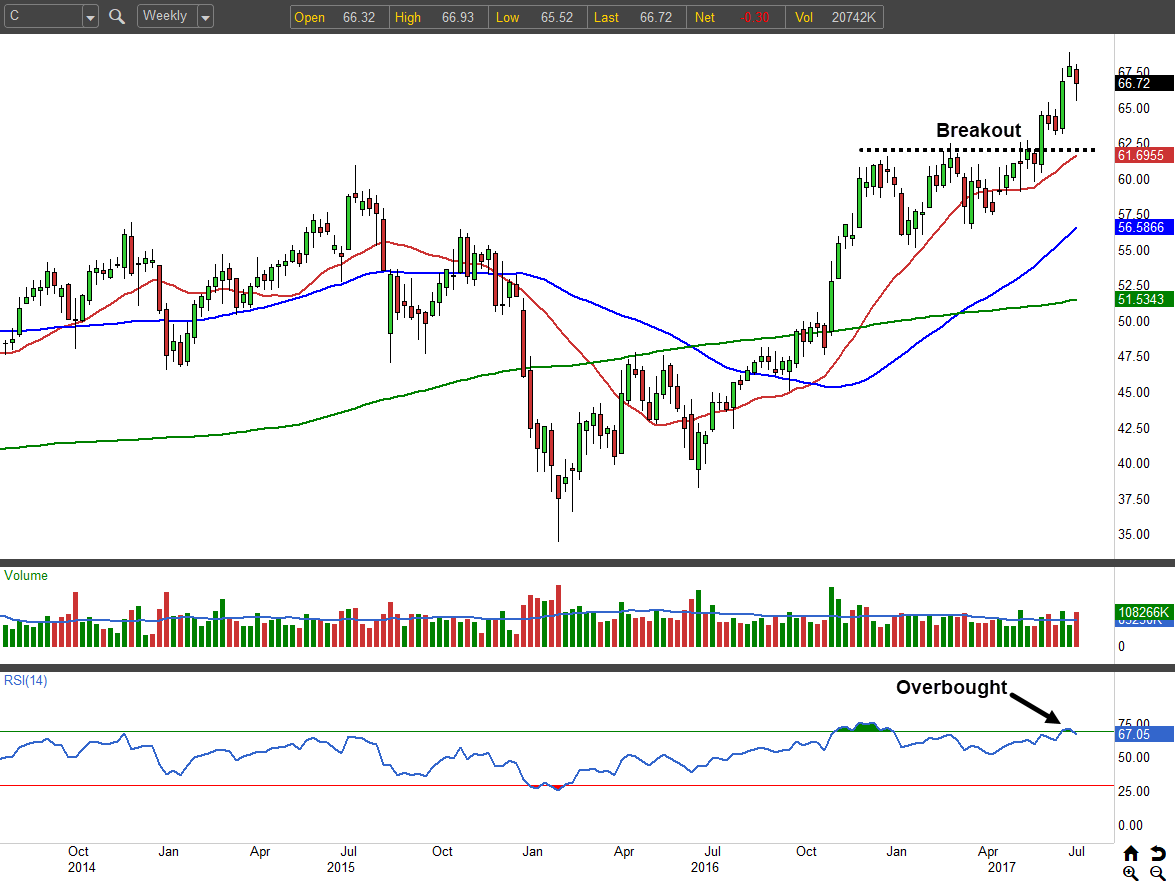 Source: OptionsAnalytix
And Citigroup's daily chart looks fantastic.
The past two pivot highs have seen increasing momentum as confirmed by the RSI. Volume patterns are also aiding buyers. Accumulation days accompanied the past two upswings showing strong participation by buyers. The current retracement in C stock has transpired on average volume showing little motivation by institutions to abandon ship.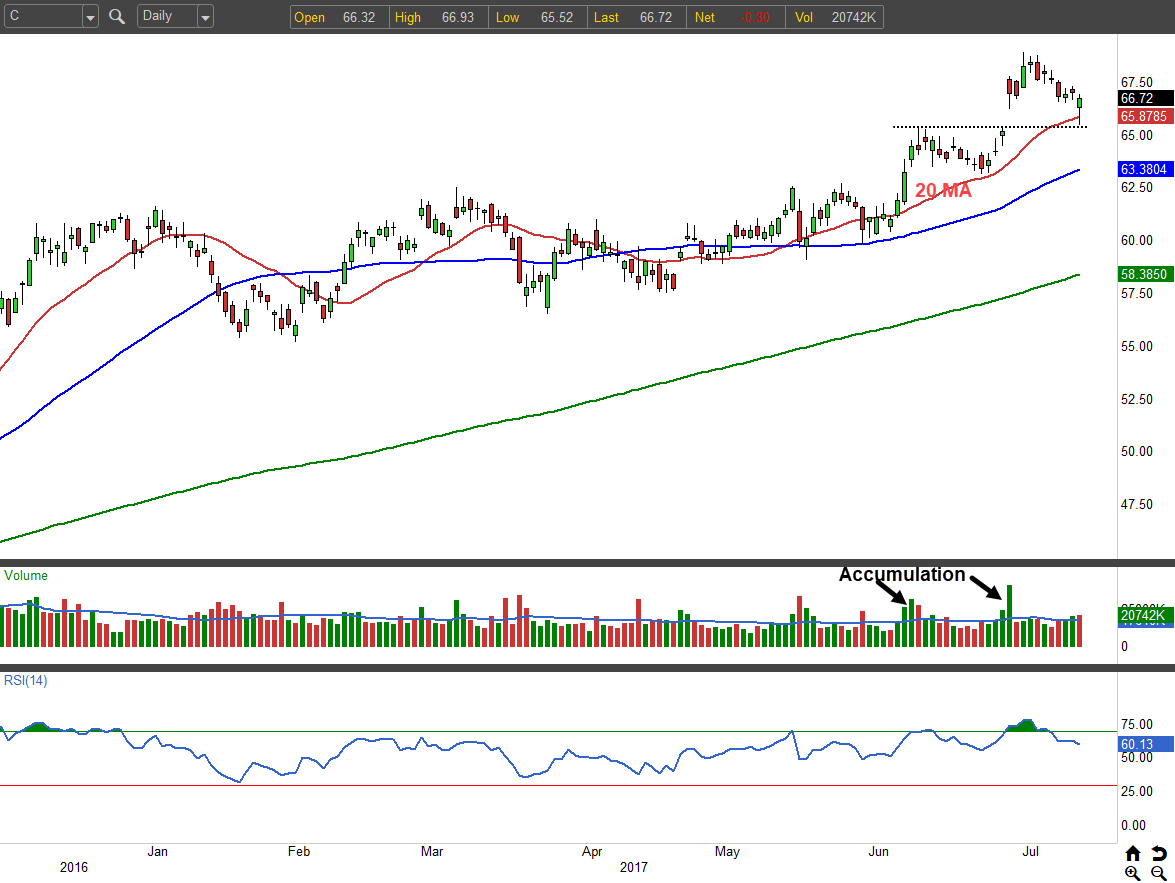 Source: OptionsAnalytix
Friday ended with a bullish hammer candle right at support. We actually had a trifecta of key price thresholds at Friday's low — a filled gap, old resistance, and the 20-day moving average.
Provided C remains above $65, buyers deserve the benefit of the doubt.
How to Bank on C Stock
In true post-earnings fashion, implied volatility for Citigroup stock options caved on Friday. Its IV rank has now returned to a lowly 10%. With options relatively cheap, long calls aren't a bad play here. Buy the Aug $65 calls for around $2.45 if C stock breaks above Friday's high ($67). The risk is limited to your cost, and the reward is unlimited.
— Tyler Craig
Join the $39 Trading Revolution – Plus 1 Month FREE!
[sponsor]
Short-term profits are now easy to grab. We DOUBLED our money in ONE day... and we're NOT day traders. It's a trading revolution, and it's long overdue.
Click here to grab your share of the profits… Plus, Get 1 Month of Free Trades!
Source: Investor Place