Today we turn our attention from the sexy to the stable. We're abandoning tech stocks for telecoms. The reason lies in large part with how drastically oversold the entire telecom space has become.
Stocks like AT&T Inc (NYSE:T) and Verizon (NYSE:VZ) have been plumbing the depths for months now. And T stock in specific has gotten so beaten down that my inner contrarian is beginning to perk up.
What initially captured my attention was the persistent weakness in the
Consumer Staples Sector SPDR (ETF) (NYSEARCA:XLP)
.
Telecoms and staples are birds of a feather.
XLP is down six straight weeks, joining retail and energy in the basket of undesirables.
But with the 200-day moving average looming close (not shown), the time for some reversion may finally be at hand.
Meanwhile, AT&T stock has been all sorts of ugly.
The telecom titan is down 15% year-to-date. It appears rising rates are taking a toll on the notorious dividend payer. The price drop has lifted its dividend yield to an impressive 5.4%.
Today, we'll look at the chart of T stock to identify key support levels to watch, and then I'll show you how to wring much more out of this sleepy telecom than its generous dividend.
AT&T's Charts
AT&T's drop is acting as an anchor on the 20- and 50-week moving averages. With a series of lower pivot highs and lower pivots lows, the weekly chart is definitely in the bears' grasp right now.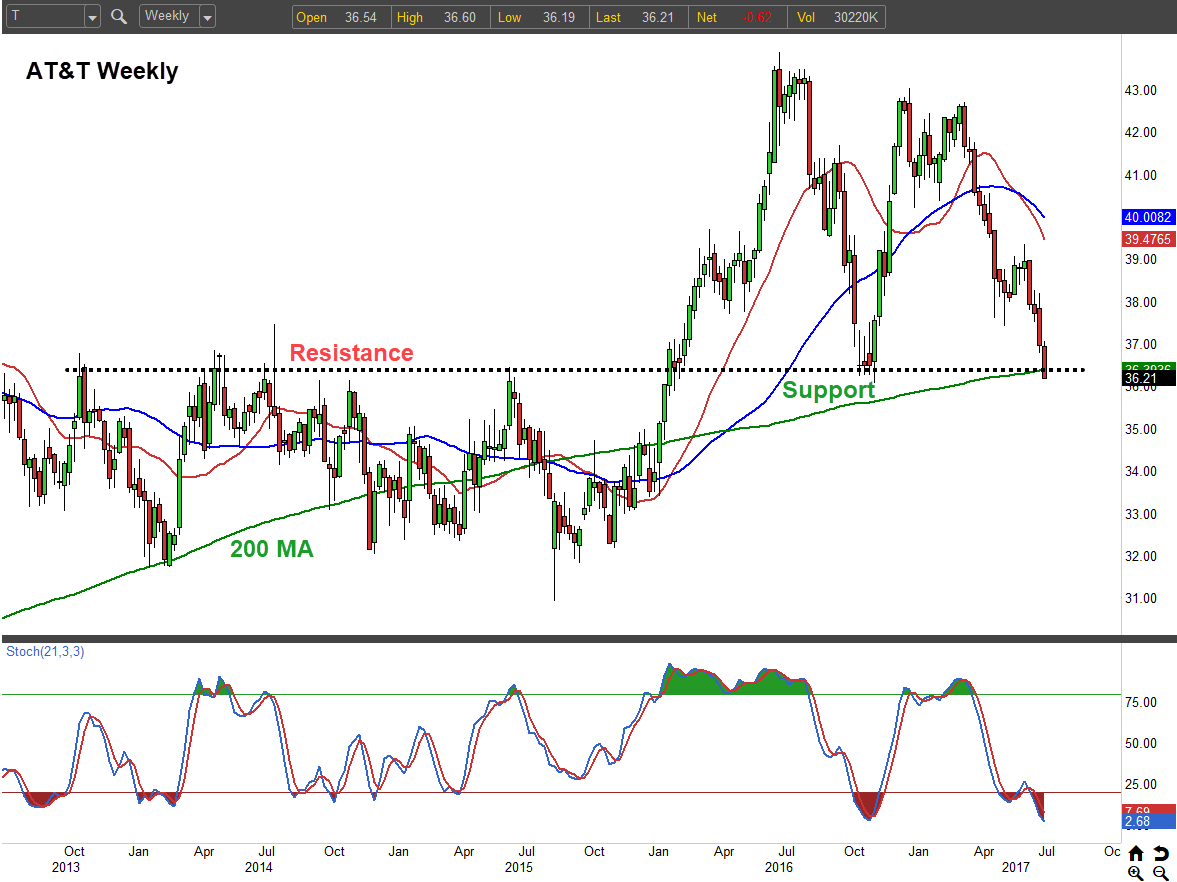 Source: OptionsAnalytix
And while I'm typically not a fan of betting against the trend, there comes a time when a stock becomes so beat up, so oversold, that it's worth considering initiating longer-term bullish positions.
The $36 zone — which T is testing as I type — has been a battleground over the past few years. Just look how many times this area provided resistance in 2013, 2014 and 2015. And then, once we finally popped above it, the level became support. Time will tell if buyers step up to defend their turf once more, but the 200-week moving average which currently resides near $36 should help their cause.
Note the extreme oversold readings flashing in the Stochastics indicator, too. Historically it's very rare for AT&T to become this stretched and not experience at least a brief bit of consolidation.
The current support test is easier seen on the daily chart.
Even if we slip below $36, I wouldn't be surprised if it turns out to be a failed breakdown. Stocks this oversold don't typically have the ability to slice below support and keep plunging. Sooner or later (I bet sooner), shorts will ring the register and bargain hunters will swoop in. Their combined efforts will deliver the long-awaited and much-deserved rebound.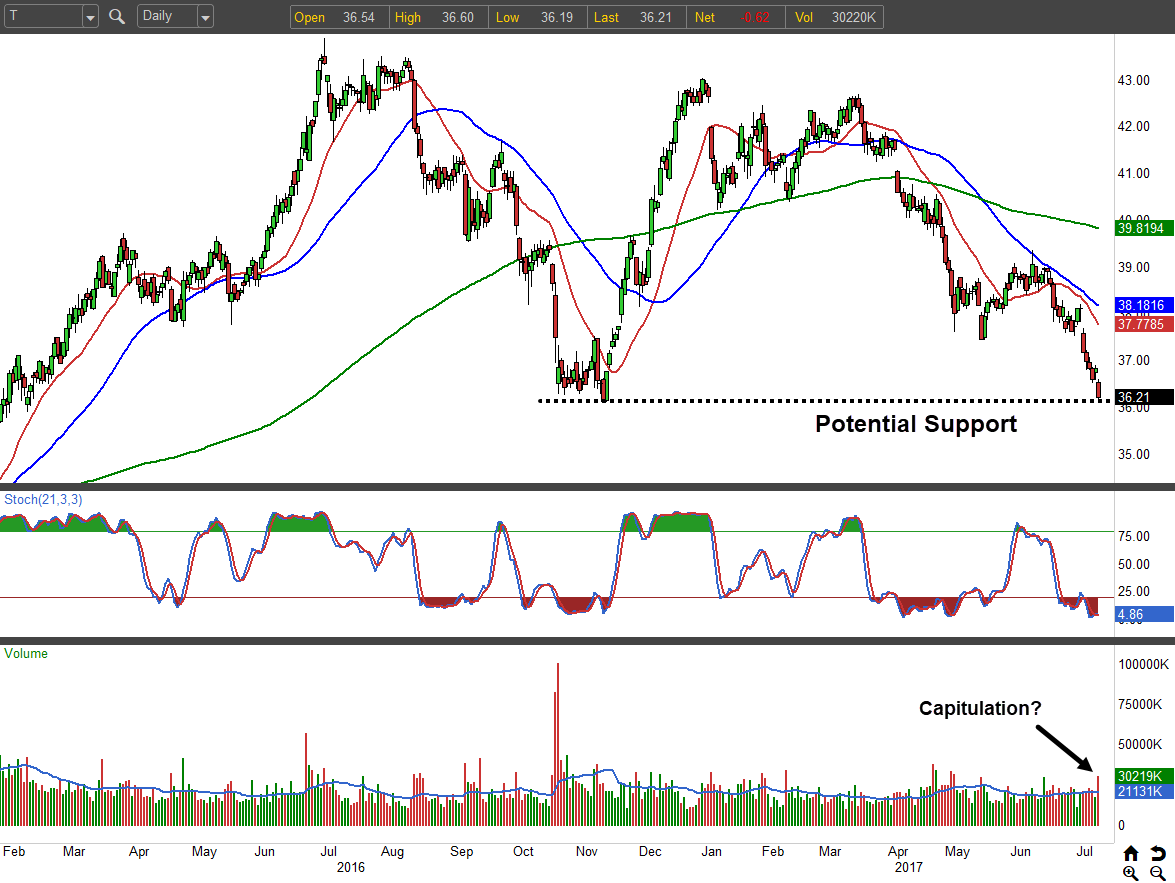 Source: OptionsAnalytix
It's also worth noting the large volume that transpired on Thursday. When so-called distribution days arrive after an extended selloff, it's usually indicative of capitulation and suggests a short-term bottom is at hand.
Trade T Stock for Cash Flow
While some traders may simply buy AT&T shares here due to the discount and solid dividend yield, I'd rather get paid for my willingness to buy.
That can be done by selling a put option. Due to the stock's death spiral, not to mention the upcoming earnings release (July 25), demand for T options is on the rise. With an implied volatility rank of 60%, option sellers are receiving more juice than usual right now.
Sell the Aug $35 put for 38 cents.
The initial margin requirement should be around $600, so the potential return is a decent 6% for the next month alone; you'd have to wait around for more than a year to pick up that income with a straight-up purchase.
That's if T stock remains above $35, of course. If it falls below $35 by expiration, you will be obligated to buy the stock at an effective purchase price of $34.62.
— Tyler Craig
Join the $39 Trading Revolution – Plus 1 Month FREE!
[sponsor]
Short-term profits are now easy to grab. We DOUBLED our money in ONE day... and we're NOT day traders. It's a trading revolution, and it's long overdue.
Click here to grab your share of the profits… Plus, Get 1 Month of Free Trades!
Source: Investor Place