Much digital ink has been spilled of late regarding the exodus from big-cap tech stocks. I've certainly engaged in my fair share of analysis of the topic. But with money rotating back into the sector, I wanted to take a fresh look at technology stocks to see which of the beloved FAANG group is recovering the quickest.
It turns out it's Facebook Inc (NASDAQ:FB), and I think opportunity lurks amid the continued strength in FB stock.
Let's begin with an update on the NASDAQ using its ETF, the
PowerShares QQQ Trust, Series 1 (ETF) (NASDAQ:QQQ)
.
(Remember: QQQ is effectively a proxy for the technology sector. As such, its behavior typically has some impact on Facebook shares.)
The QQQ has pieced together a respectable three-day rally.
Over that time frame, the fund has gained back a modest 2.4%.
It's a garden-variety bounce if there ever was one.
And two things continue to concern me with the broader tech sector.
First, QQQ is still submerged beneath its 50-day and 20-day moving averages. In other words, its short-term downtrend is still pointing lower. This price pop could form a lower pivot high just like the last one, giving way to yet another down swing. I'd feel much more optimistic if QQQ could trade back above its 50-day moving average for a few days.
Second, with the RSI perched at 50, momentum has yet to return from bearish territory fully. Until we see a stronger surge out of the RSI, color me skeptical of this bounce.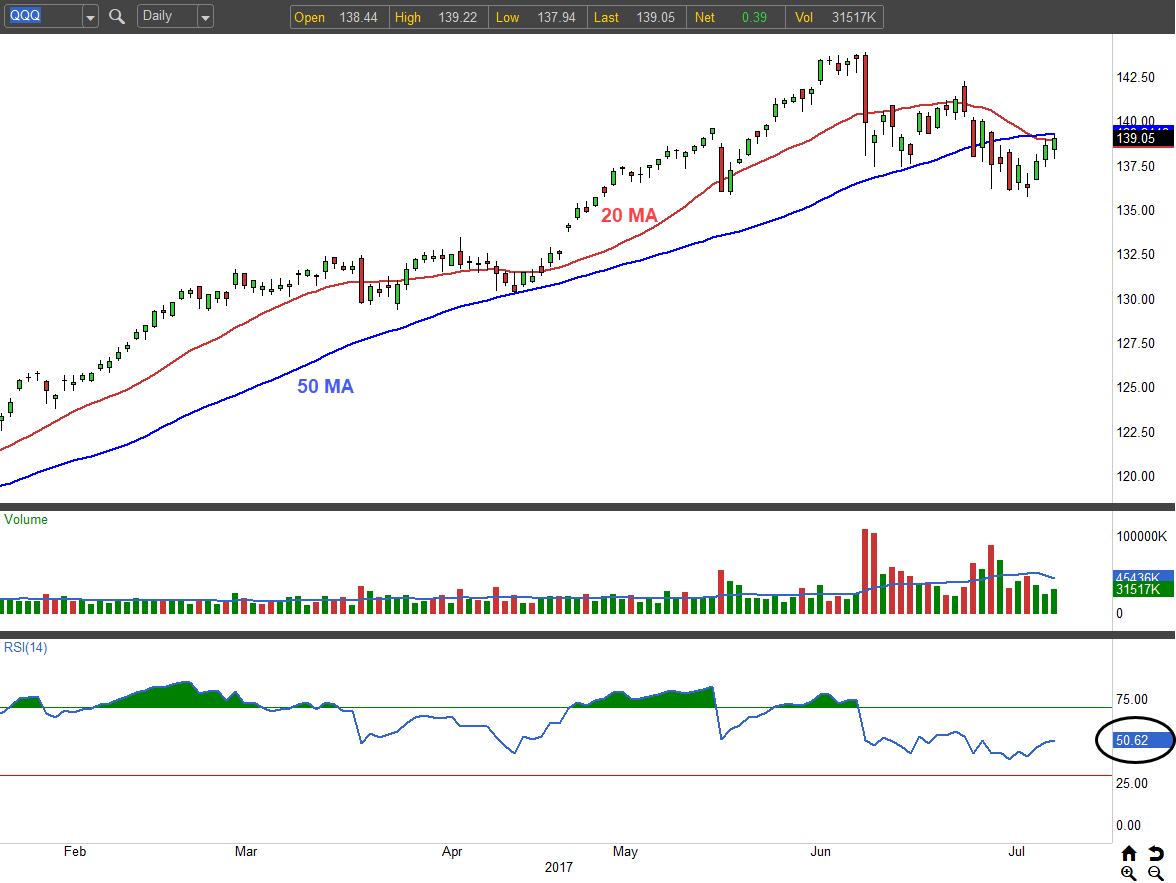 Source: OptionsAnalytix
Throw it all together, and I find little reason to get gung-ho right now in tech-land. But if I were going to dip my toes in the water, FB stock would be my first pick, at least among the big-cap leaders.
Here's why.
Facebook's Chart
It all comes down to strength — relative strength, that is. While QQQ remains in the doghouse, FB stock has returned to its former glory. In fact, Zuckerberg's flagship scored a record closing high on Tuesday at $155.27. It's as if the whole tech wreck was just a bad dream, temporary and easily forgotten.
At least for Facebook. Fellow tech brethren like Apple Inc. (NASDAQ:AAPL), Alphabet Inc (NASDAQ:GOOGL) and Netflix, Inc. (NASDAQ:NFLX) haven't been so lucky. They're still twisting in the bedsheets, futilely fighting specters in the night.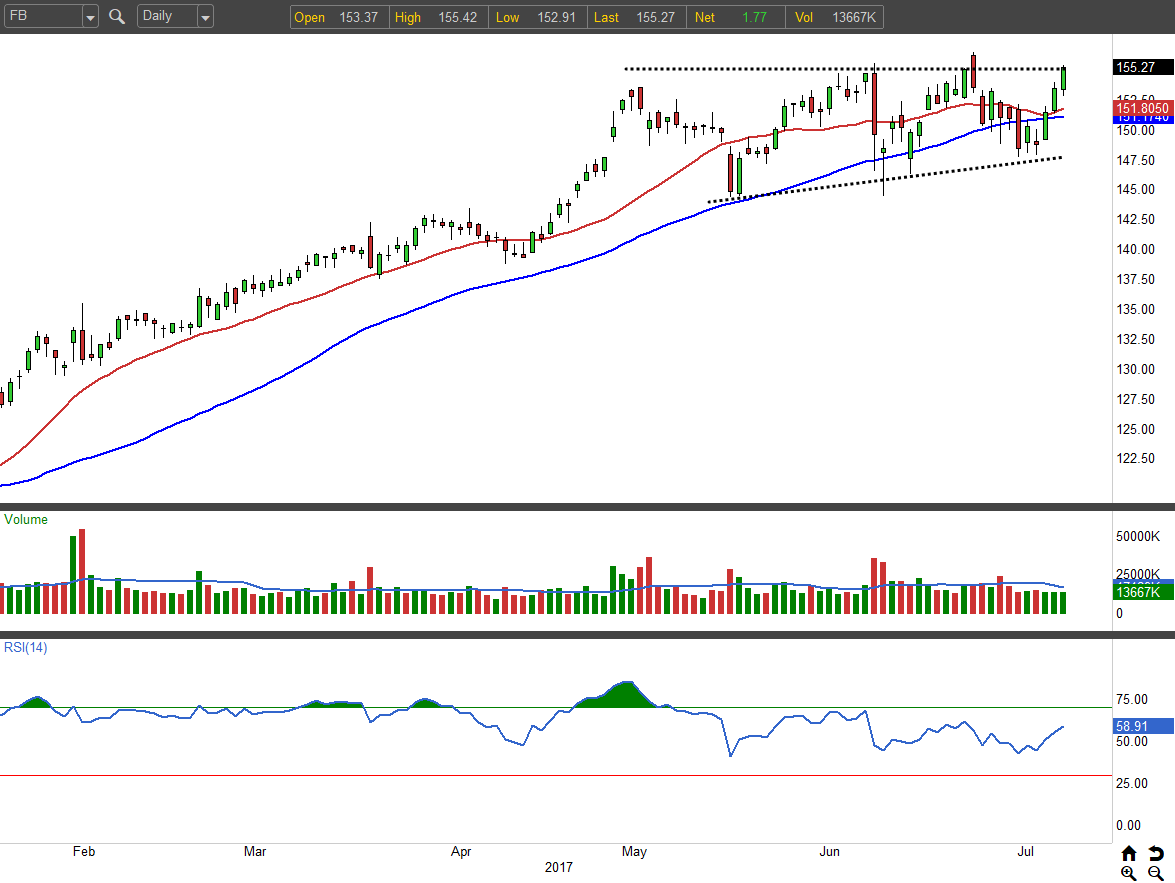 Source: OptionsAnalytix
As the daily chart of Facebook stock will attest, it's a whisker from breaking out of its two-month trading range.
Here's to hoping this breakout attempt fares better than the last one (see 6/26). Still, if you're a believer that strength begets more strength, and if you're looking to up your exposure to tech in case the Nasdaq recovery lengthens its stride, then consider initiating bullish plays in Facebook.
Make FB Stock Like You Back
The one wrinkle in today's trade suggestion is Facebook's upcoming earnings announcement slated for July 26. With earnings season kicking off in earnest over the next few weeks, this is really a concern for most any trade ideas pitched over the coming days. Keep in mind that the binary nature of these events and their tendency to deliver breakneck overnight volatility.
That said, if you think FB stock can gain enough ground between now and then, or if you're simply willing to bet with the bulls into earnings, sell the Aug $145/$140 bull put spread for 71 cents.
To lose, FB would have to fall below a pair of support levels, so consider the $145 level well-defended and unlikely to be reached unless Facebook bungles earnings.
The max reward is capped at the initial 71 cent premium received. The max risk is limited to $4.29.
— Tyler Craig
Join the $39 Trading Revolution – Plus 1 Month FREE!
[sponsor]
Short-term profits are now easy to grab. We DOUBLED our money in ONE day... and we're NOT day traders. It's a trading revolution, and it's long overdue.
Click here to grab your share of the profits… Plus, Get 1 Month of Free Trades!
Source: Investor Place