By now, any investors who are paying attention to the stock market this summer realize there is an ongoing sector rotation out of tech stocks. Sectors such as financials and health care are seeing cash flow in, while tech stocks are selling off – especially the stocks with the richest valuations.
Despite the pullback in tech, most big name tech stocks are still within about 10% of their 52-week highs. It suggests there could be more selling in tech ahead.
The situation will be exacerbated should the overall market turn bearish. However, not all tech stocks will be on the chopping block.
For instance, semiconductor stocks have held their ground a bit more firmly than other tech industries.
There are reasons to believe some big players in the semi-industry may actually turn bullish despite what's going on in the rest of the market.
Two potential catalysts for bullish semiconductor behavior are the continued expansion of the gaming industry and the increasing popularity of cryptocurrencies.
Consumer spending on gaming climbed to over $30 billion in the US alone in 2016. That number is only expected to increase, as gaming becomes more and more popular. And regardless of the platform (whether it be mobile, console, or computer), all the hardware for gaming is powered by chips.
And then there's the $100 billion cryptocurrency market. Led by Bitcoin and Ethereum, crypto- or digital currencies have exploded in popularity. If you're not familiar with digital currencies, they are basically mined (the industry term for generated/created/earned) by using powerful hardware driven by top of the line semiconductors.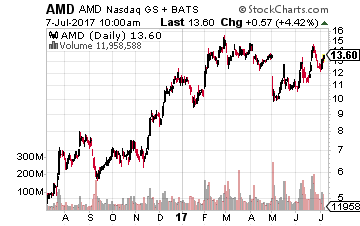 One company which has benefited from both catalysts quite strongly is Advanced Micro Devices (NASDAQ: AMD).
The stock is up around 15% year to date and a whopping 158% from this time last year.
What's more, options action suggest the stock could be in for an even bigger run higher.
Just this past week, someone purchased 20,000 AMD August 18th calls for $0.44.
That means the stock would need to reach nearly $17.50 in about a month and a half for the trade to break even, a nearly 35% percent move higher. By the way, the call buyer is wagering almost $900,000 on this trade.
Granted, AMD does have earnings coming up on July 21st, so there's clearly a potential catalyst in play. Nevertheless, that's a lot of money to risk when you need a 35% move just to break even. (Also, there's been a ton of call buying all across the option chain, this was just the most notable trade.)
I happen to agree that AMD is due for a move higher. It's also very possible the company will beat earnings considering the recent growth data regarding gaming and cryptocurrencies. However, I'd probably choose a different strategy than buying naked, well out-of-the-money calls.
I'd much rather lower my risk in exchange for capping my return potential (after all, how much higher is AMD going to go by mid-August, realistically). For example, with the stock at $13, you could buy the August 13-17 call spread (buying the 13 calls and selling the 17 calls to lower your premium cost) for about a $1. The stock only has to reach $14 in order for the trade to break even. Plus, your max gain is still $3 per spread.
Of course, there are plenty of ways to go long AMD using options – and we won't know which way was the best until after the fact. However, I think it's important to control your risk as much as possible. In most cases, it's better to lower your risk and accept the potential for a lower return, rather than try to hit a home run and risk it all.
— Jay Soloff
[ hana-code-insert ] 'ia-alan' is not found
Source: Investors Alley