What began as a minor speed-bump for b shares is morphing into a Texas-sized pothole. With Wednesday's close of $308.83, Elon Musk's flagship is now down 20% from its peak. That's right, folks, TSLA stock has officially entered bear market territory.
What's perhaps most notable is the breathtaking speed with which the popular stock has turned from hero to zero.
It has only been eight trading sessions since the stock was touching record highs.
Newcomers to the trading arena are witnessing firsthand how the momentum sword swings mightily in both directions.
When the worm turns for darling stocks, watch out below!
So what should we make of this plunge?
Is this a brief foray into bear country or a prolonged visitation?
As usual, we will let price be our guide.
And, spoiler alert, once our chart analysis is complete, I will share a trade idea for capitalizing on TSLA stock.
Tesla Stock Charts, Warts and All
While buzz phrases like "bear market" are designed to hook readers and reel them in, most traders care little for the whole 20% threshold definition. Knowing that Tesla is down 20% and thus officially in a bear market tells us much about what has happened but virtually nothing about what will happen.
The more useful way to determine if TSLA stock is bullish or bearish is by assessing its price trend. Let's begin, as usual, with the weekly chart.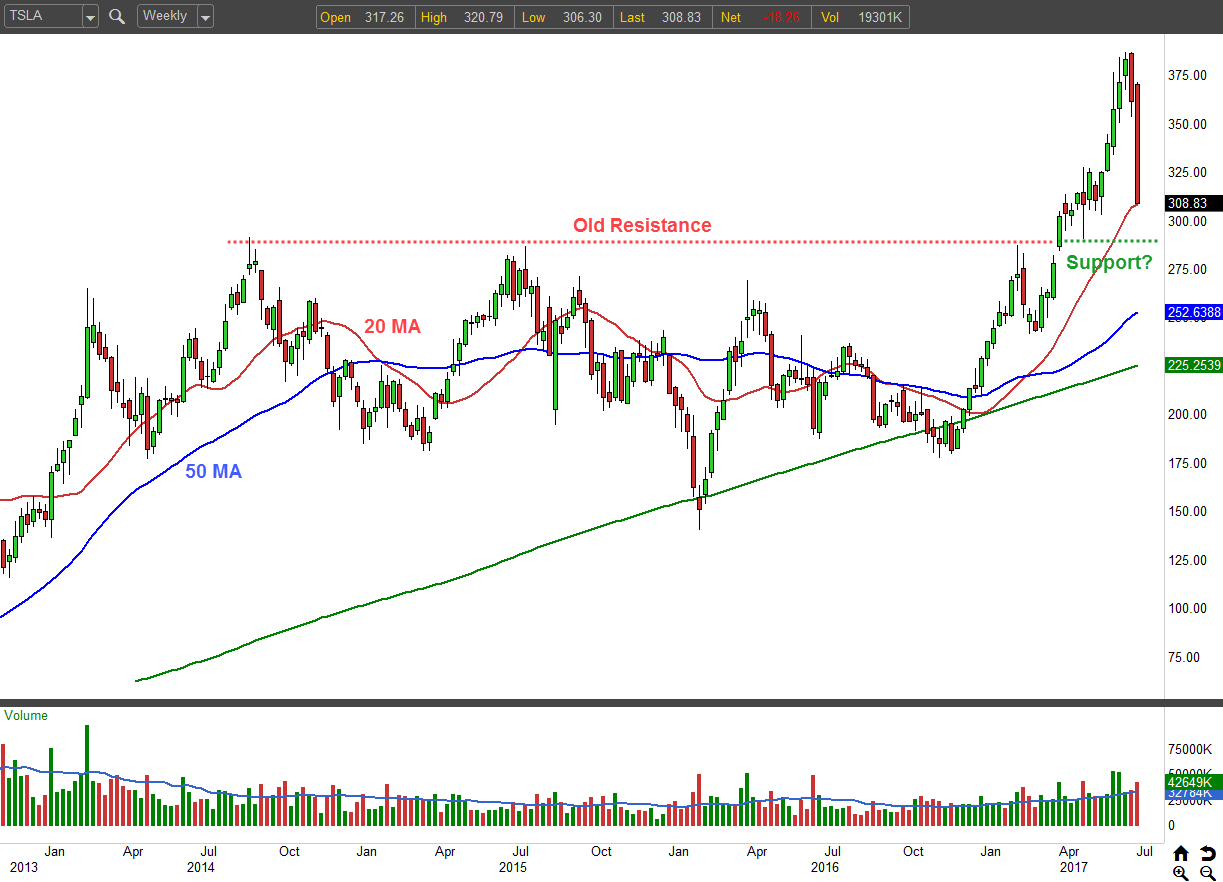 Source: OptionsAnalytix
For all its fury, Tesla's ongoing pullback has yet to damage the weekly uptrend. In fact, it has yet to break below any prior pivot lows. The price level that stands supreme, the one, if broken, that would concern me is $288. That price marked the high of its two-year trading range. It acted as a major resistance level for years. And, if the principle of polarity holds true, it should reverse to provide support now.
Until Tesla stock breaches $288, this pullback is a buyable dip based on the weekly chart's posture.
The two developments worth noting on the daily chart are the oversold conditions and the rapid rise in trading volume. To state the obvious, TSLA has become quite overstretched. A 20% drop in a little over one week will do that to you. While we may see another day or two of bloodletting before the snap-back arrives, rest assured, it's coming.
I've highlighted the previously mentioned $288 price zone as well as a closer support level near $303. As you can see, both loom close.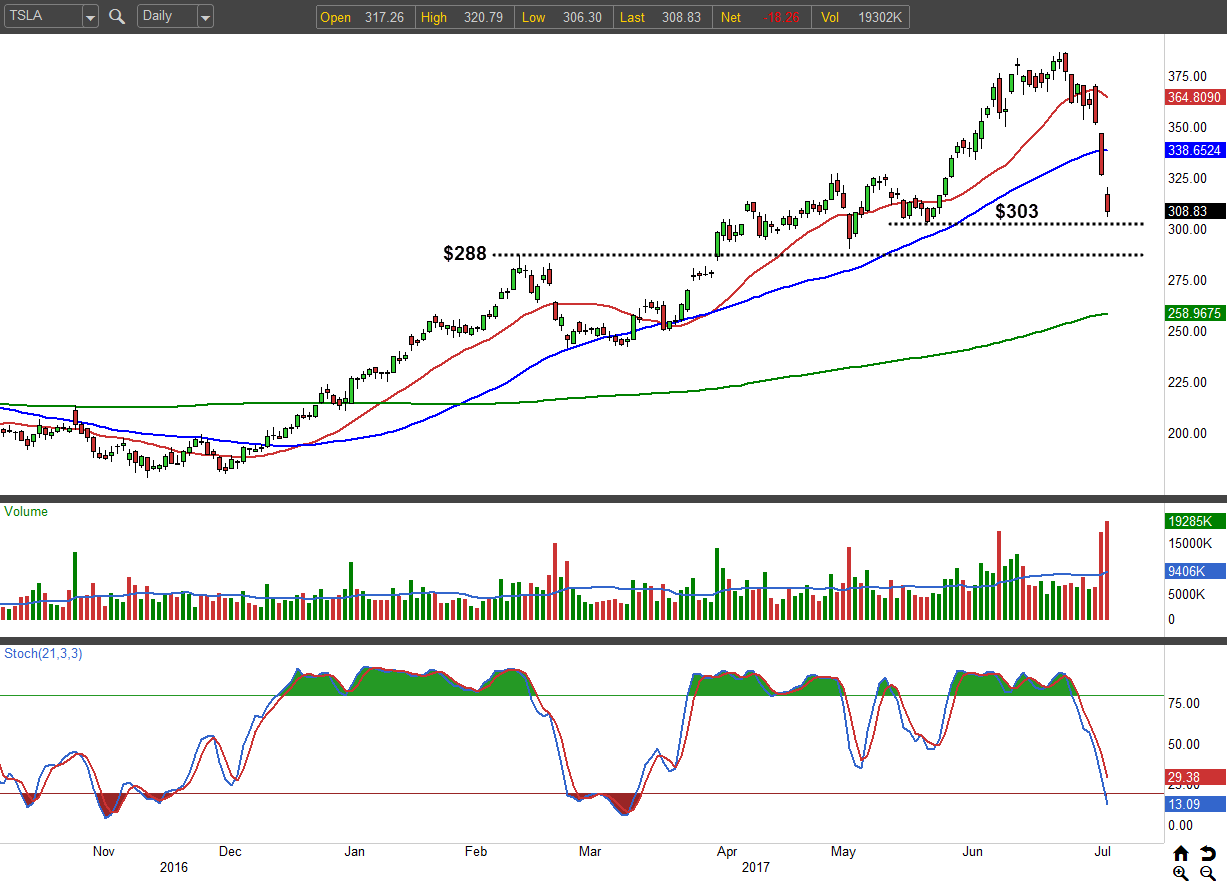 Source: OptionsAnalytix
While the volume during the last two trading sessions reeks of distribution, it also looks climactic. Massive volume spikes often correspond with price bottoms because it indicates capitulation by shareholders who simply can't take the pain any longer. The volume spike is yet another sign that suggests at least a short-term bounce is imminent.
TSLA Stock: Knife Catch Like a Pro
Fear surrounding Tesla stock is on the rise. And understandably so. The increase in volatility expectations has lifted the stock's implied volatility rank to 78%. Put option premiums have fattened considerably, and that's making it mighty tempting to sell them via bull put spreads.
The other significant benefit to this spread is it allows us to create a wide profit range. That means we have a solid margin of error in case Tesla slips further before finally snapping back.
Sell the Aug $270/$265 bull put spread for $1.00. Consider this a bet that Tesla will sit above $270 at expiration. I like the fact that these strikes are below the $288 key support level we mentioned earlier. TSLA stock will have to fall another 12% from here before touching the short strike.
The reward is limited to $1, and the risk is limited to $4. To minimize the damage, consider exiting on a touch of $270. And, if you want to increase your probability of profit, take profits when the spread value has dropped from $1 to 50 cents.
— Tyler Craig
Join the $39 Trading Revolution – Plus 1 Month FREE!
[sponsor]
Short-term profits are now easy to grab. We DOUBLED our money in ONE day... and we're NOT day traders. It's a trading revolution, and it's long overdue.
Click here to grab your share of the profits… Plus, Get 1 Month of Free Trades!
Source: Investor Place