Today's chart highlights a company that will benefit from Steve's "Melt Up" thesis…
Regular readers know Steve believes we're entering the final stages of this historic bull market, where stocks will explode higher. If he's right, it could provide a big boost for trading-exchange stocks like CBOE Holdings (CBOE).
CBOE is the owner of the Chicago Board Options Exchange, the Bats Global Markets exchanges, the CBOE Futures Exchange, and other subsidiaries.
In other words, if you're trading options in the U.S., there's a good chance you're using CBOE's services.
The company collects fees as investors buy and sell. So when trading volume skyrockets, so do shares of CBOE.
As the market has marched higher this year, so have CBOE shares.
Traders and investors continue to pour into the market, meaning more money in CBOE's pockets. Shares are already up more than 40% over last year… and recently hit a new all-time high. If the Melt Up pushes more investment money into the market, CBOE shares will continue their surge…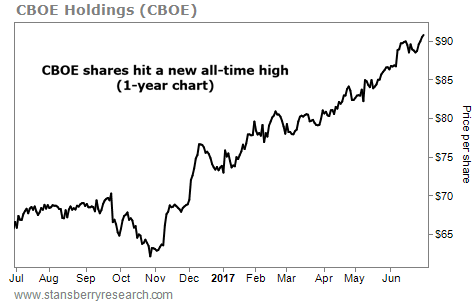 Claim a 100% Risk-Free Trial to DailyWealth Trader... [sponsor]
For a limited time, get immediate access to "the best of" Stansberry Research's trading ideas. As one reader said: "I am 11 for 11 so far... in less than 2 months." Learn more here.
Source: Daily Wealth's Market Notes