Profit taking has come to Wall Street. Especially in technology stocks. It's almost as if we're seeing a replay of the June 9 swoon when sellers initially struck. Once again, big-cap tech and semiconductors are leading the bloodletting.
But I'm not interested in buying the dip in the Nasdaq. Not yet at least. It's the pullback in biotech stocks and Celgene Corporation (NASDAQ:CELG) that has me licking my chops.
Indeed, CELG stock has one of the healthiest-looking setups for the week ahead.
I recently highlighted the breakout in the SPDR S&P Biotech (ETF) (NYSEARCA:XBI) and the iShares Nasdaq Biotechnology Index (ETF) (NASDAQ:IBB) and concluded that any and all price dips should be viewed as buying opportunities.
While playing the entire industry via these ETFs is certainly a valid idea here, let's focus on one stock that's leading the charge: Celgene.
One of the quickest ways to identify leading stocks in a particular sector is to view the top holdings of that sector's ETF. In this case, I used IBB, which boasts CELG stock, Amgen, Inc. (NASDAQ:AMGN) and Biogen Inc (NASDAQ:BIIB) as its biggest three holdings.
Of the trio, AMGN and CELG are the most liquid, but it's Celgene that is currently exhibiting the most relative strength. Going with the best of breed is a time-tested tactic to ensure the wind is at your back.
Celgene's Chart
You can see how Celgene stock began outperforming the biotech sector (IBB) in early June. That means the stock was able to garner greater gains than IBB over the past few weeks.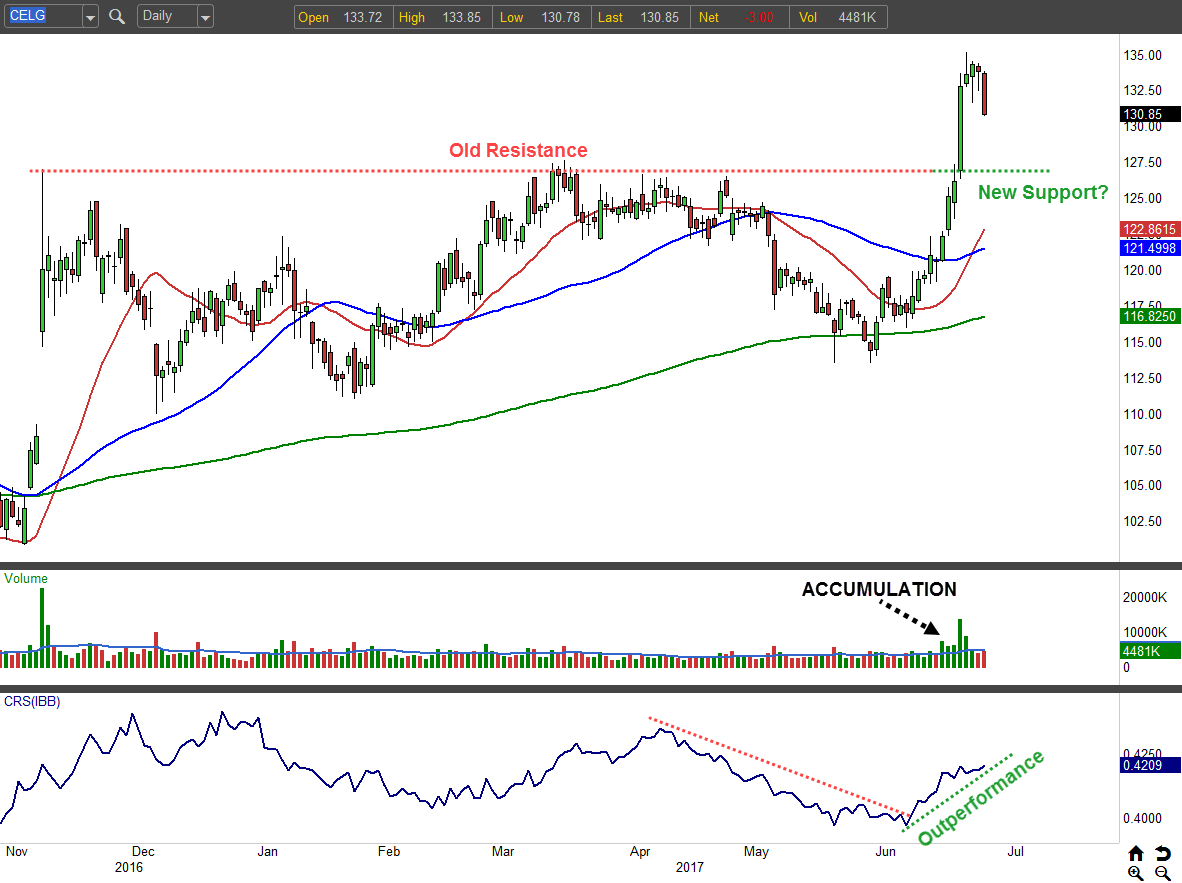 Source: OptionsAnalytix
Further buttressing the bullish argument is the magnitude of the stock's recent breakout as well as the sheer amount of participation. Although CELG was already up seven of its past eight trading sessions before the June 21 breakout candle, it was still able to launch another three days and $10 higher.
This wasn't some small-time resistance breach led by a handful of players. It was a broad buying binge from institutions across the board.
And the volume, just look at the volume! Seven accumulation days over 10 days is about as good as it gets. In contrast, the past two days of selling (Monday & Tuesday) saw light volume showing little urgency by sellers to abandon ship. While the stock may retreat for another trading session or two, there's no doubt this dip should be used to initiate bullish CELG plays.
In eyeing potential support levels, the $127.50 is the biggest one for two reasons.
First, it acted as a major resistance before it was finally breached last week. And as all chartists worth their salt are aware, old resistance often becomes new support. Second, the 38.2% retracement level of the entire June advance rests near $127.50.
This zone is often a gathering ground for dip buyers in the strongest uptrends.
The Way to Go With CELG Stock
Given the strength of Celgene's breakout, I find it very unlikely that it completely falls apart in the weeks ahead. As such, I'm willing to bet it remains above $120 through August expiration.
We could use July options, but with only 24 days remaining, we would have to sell close-to-the-money options, leaving little room for error. By moving to August, we can widen the profit range and provide CELG stock with more room to fluctuate just in case it gets squirrely before the uptrend continues.
Sell the Aug $120/$115 bull put spread for 60 cents or better. The max reward is limited to the initial 60 cents credit and will be captured if the stock sits above $120 at expiration. The max risk is $4.40, but you should be able to minimize the loss by exiting if the stock falls to $120.
— Tyler Craig
Join the $39 Trading Revolution – Plus 1 Month FREE!
[sponsor]
Short-term profits are now easy to grab. We DOUBLED our money in ONE day... and we're NOT day traders. It's a trading revolution, and it's long overdue.
Click here to grab your share of the profits… Plus, Get 1 Month of Free Trades!
Source: Investor Place