A survey of Monday's sector performance reveals retail stocks were on the move. Indeed, the SPDR Retail ETF (NYSEARCA:XRT) popped just shy of 2% while the broader market dithered.
That, friends, is some relative strength and provides reason enough to take a good look at the space to see if there's anything trade-worthy. I did just that, and Best Buy Co Inc (NYSE:BBY) earned high marks. In fact, BBY stock has all the makings of a profitable dip buying opportunity.
First off, today's top-down approach that led us to BBY is a solid case study of how scanning the markets from a sector perspective can often point you toward trade ideas that would take much longer to identify by any other method.
A quick glance at sector performance reveals what's moving on a day-to-day basis and where you're likely to find strength or weakness across the investing landscape.
Before we turn our attention to Best Buy stock, let's take a brief look at the action in XRT.
As robust as Monday's rally was, retail stocks — at least as measured by XRT — have much work to do before the significant damage inflicted recently can be repaired. The fund remains submerged below all major moving averages. A break back above the 50-day (currently sitting at $41.61) would do wonders in improving the trend.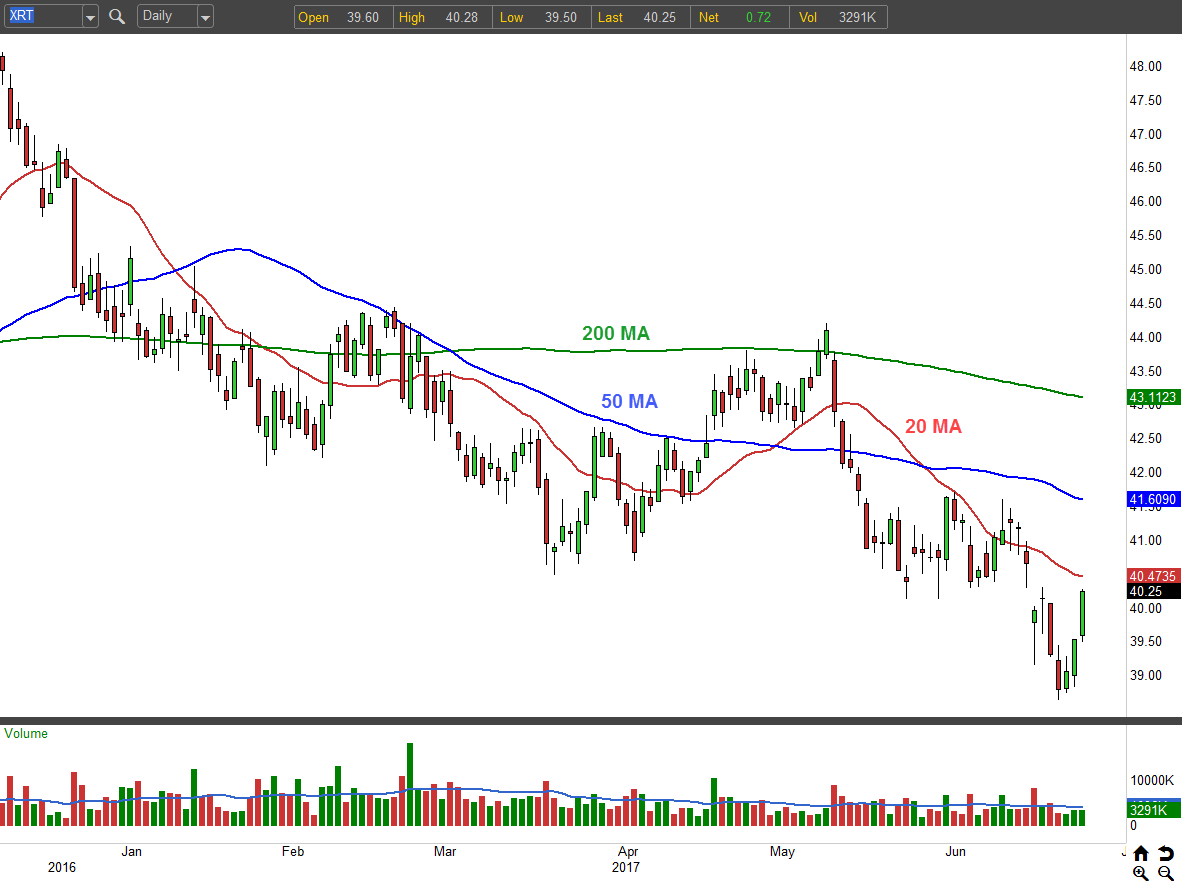 Source: OptionsAnalytix
The strongest narrative for XRT at this point is rotation. If money fleeing tech stocks and other leading sectors starts to find its way into areas that have underperformed, then retail stocks could benefit.
The past two trading sessions are a solid start, but we need to see upside follow through before a bona fide uptrend takes root for the entire space.
One of the positives for Best Buy is its relative strength versus XRT this year. It's undoubtedly a leading stock in the space. I mean, just look at the difference in year-to-date performance. While XRT is down 8.7%, BBY stock is up 32%.
Best Buy's Chart
Perhaps the biggest development for Best Buy was its rockstar performance during the recent earnings announcement.
The company smashed expectations and delivered a one-day 21% gain to its share price. Volume exploded, and BBY stock notched a new 52-week high at $61.95 in the process.
Profit-takers showed up relatively quickly following the jump, and honestly who can blame them? The itch to ring the register after a 21% gain falls into your lap overnight is real.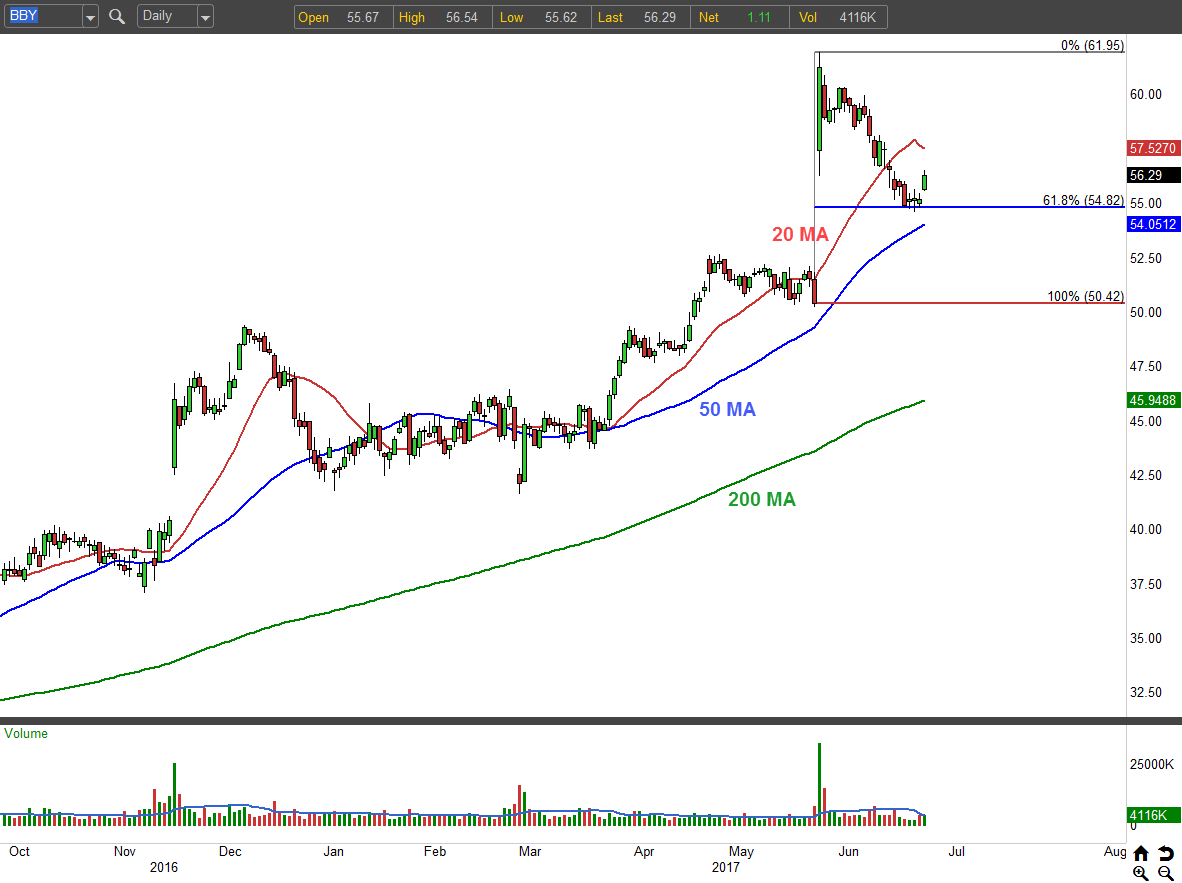 Source: OptionsAnalytix
Downside pressure has continued over the past month, but the magnitude of the price retreat has been relatively tame, all things considered. BBY has dropped back below its 20-day moving average, but remains above the rising 50-day. Plus, it has only filled about 61.8% of the earnings gap, so it's not as if all the epic gains have been sacrificed.
Bottom line: If Monday's pop is any indication, the next advance could be starting.
How to Trade BBY Stock
With earnings fading in the distance, implied volatility has returned to lowly levels once more. Best Buy's IV Rank currently sits at 17%, and that means options are cheap.
Let's try a long call spread to capitalize.
Buy the Aug $55/$57.50 bull call spread for $1.32 or better. The risk is limited to the initial cost and will be forfeited if the stock sits below $55 at expiration.
If BBY stock can rise past $57.50 by expiration (a mere 2% away), the spread will deliver a return of $1.18 at expiration.
By risking $1.32 to capture $1.18, we have the potential to capture a 89% return over the next 53 days.
— Tyler Craig
Join the $39 Trading Revolution – Plus 1 Month FREE!
[sponsor]
Short-term profits are now easy to grab. We DOUBLED our money in ONE day... and we're NOT day traders. It's a trading revolution, and it's long overdue.
Click here to grab your share of the profits… Plus, Get 1 Month of Free Trades!
Source: Investor Place