MORE PROOF THAT 'BORING' STOCKS RULE THE WORLD
Today's chart highlights one of our favorite strategies at work… buying companies that sell simple products.
You don't need to sell flashy or innovative products to have a successful business. "Boring" products like cigarettes, soda, coffee, and Twinkies are always in demand.
These staples are the cornerstones of steady, profitable businesses that generate good cash flows for investors.
For proof, we'll look at a fast-food giant…
Restaurant Brands International (QSR) is the one of the world's largest fast-food companies.
Its popular brands include Burger King (burgers), Tim Hortons (coffee and donuts), and Popeyes Louisiana Kitchen (fried chicken).
These strong, long-lasting brands can stay popular for decades…
They generate millions of dollars in revenues, and they don't require additional spending from the company. (In other words, they're what our colleague Porter Stansberry calls "capital efficient" businesses.)
As you can see, shares of QSR have soared lately. They're up nearly 50% in the past year alone, and they recently hit a new all-time high. Until people stop drinking coffee and eating burgers, this uptrend is likely to continue…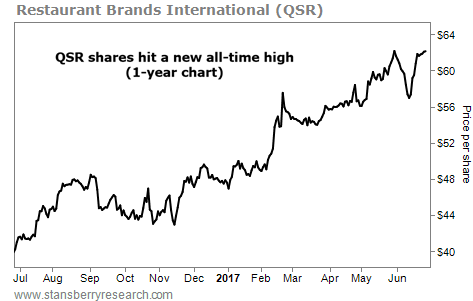 Claim a 100% Risk-Free Trial to DailyWealth Trader...
[sponsor]
For a limited time, get immediate access to "the best of" Stansberry Research's trading ideas. As one reader said: "I am 11 for 11 so far... in less than 2 months."
Learn more here.
Source: Daily Wealth's Market Notes