Walt Disney Co (NYSE:DIS) shares tagged a new year-to-date low of $103.17 on Friday. Poor Mickey. Ever since April 27, he's seen his net worth tumble 10% alongside DIS stock. And with that, what began as a mild pullback has officially become a correction.
Over the weekend, Sir Mickey, the magic mouse himself, reached out to me in search of comfort. He expressed a fear that his beloved flagship was on its way into bear country.
His principal question was whether I could find a silver lining — a sliver of hope among the otherwise dismal performance of Disney stock in recent months.
Not wanting to disappoint, I pulled out my charts and went to town on some whiz-bang analysis and a trade, which you'll find below.
Disney's Charts
For starters, Disney shares have a ways to go before officially entering a bear market.
To fall 20% from its peak and officially qualify for Wall Street's definition of a bear market, DIS stock would have to plummet to $92.88, so let's not get ahead of ourselves.
But the whole 20% threshold doesn't mean much to traders anyways.
Most define whether a stock is bullish or bearish by its price trend, and there's no doubt Disney is in a downtrend on its daily chart. If it's not obvious based on the recent series of lower pivot highs and lower pivot lows, then take a gander at the 20-day and 50-day moving averages, both of which are descending.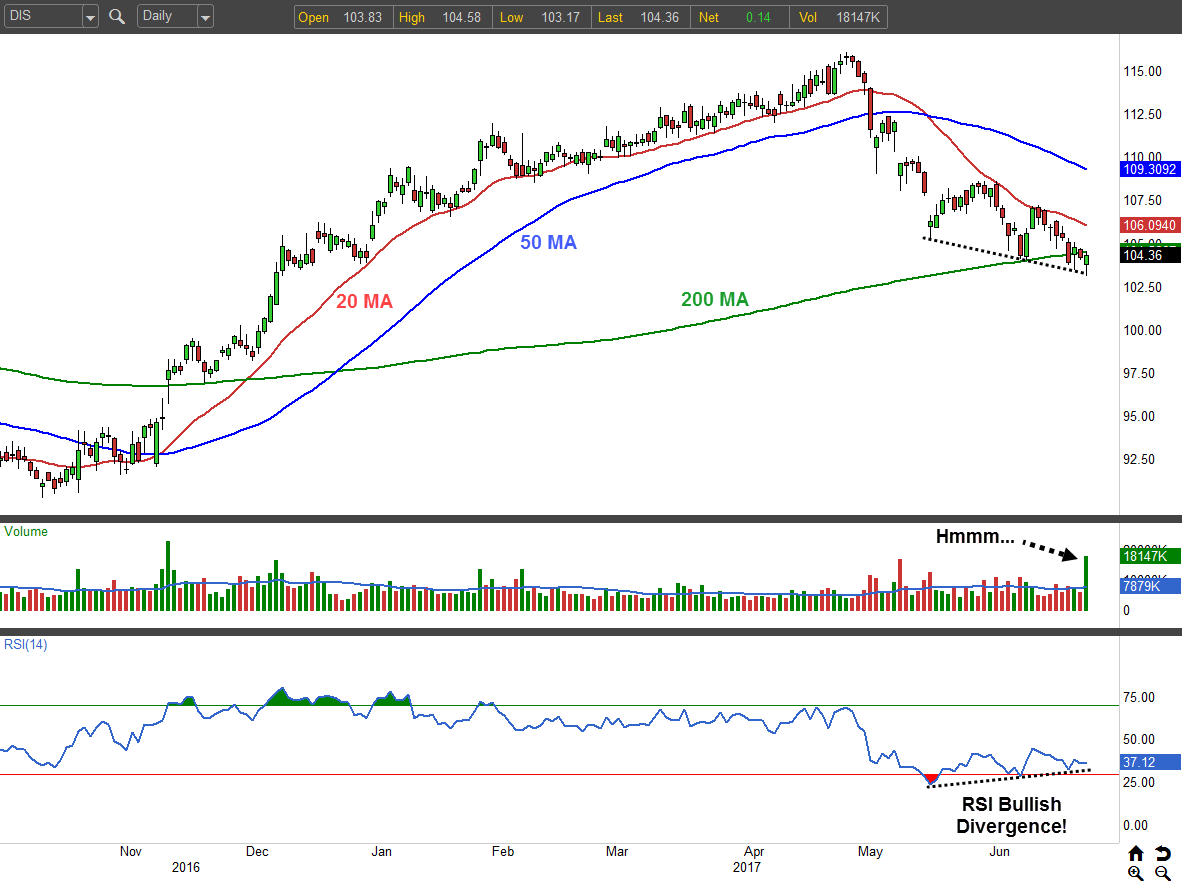 Source: OptionsAnalytix
One ray of sunshine on the moving average front is the 200-day MA, which DIS is currently wrestling with. This popular, long-term average is often a battleground. If Disney lovers want to put up a fight, there's no better time than now, and no better spot than its current residence.
Perhaps the most interesting development — and one that should provide a bit of hope to Mickey and friends — is the slowing momentum.
As the stock has been forming lower pivot lows, the Relative Strength Index (RSI) indicator — my favorite momentum indicator, found in the bottom panel of the above chart — has been carving out higher swing lows creating what's known as divergence. Specifically, this is a bullish divergence, and it suggests the downtrend is losing steam.
While it certainly doesn't guarantee Disney is bottoming, it does at least give bottom fishers a reason to perk up and watch to see if the stock can cobble together a decent rally.
The volume during Friday's trading was notable. More than 18 million shares changed hands making it the most active trading session since last November. Could it be institutions starting to wade into the waters? Time will tell if it was a one-off or the start of a new trend.
Either way, it's yet another reason for optimism — particularly given that a solid hammer candle accompanied the high volume.
Bottom Fish DIS Stock With This Trade
The options market provides some interesting ways to capitalize on Disney's descent slowing. For example, if you're willing to bet the stock can remain above $101 for the next few weeks then you could sell the Jul $101/$98 bull put spread for 41 cents.
To further increase your odds of success, you could scale into the position. For example, if you wanted to sell two spreads, instead of entering both at once you could sell one spread for 41 cents, then wait to sell the second spread for around 61 or 71 cents. If DIS stock ends up dropping a bit further in the coming days, you will receive the opportunity to enter the second spread at the higher price.
Doing so will raise your average credit which lifts the potential reward.
In timing the entry, I suggest waiting for Disney to break above Friday's high ($104.58) to confirm the hammer candle.
— Tyler Craig
Join the $39 Trading Revolution – Plus 1 Month FREE!
[sponsor]
Short-term profits are now easy to grab. We DOUBLED our money in ONE day... and we're NOT day traders. It's a trading revolution, and it's long overdue.
Click here to grab your share of the profits… Plus, Get 1 Month of Free Trades!
Source: Investor Place