A NEW 'PICKS AND SHOVELS' WINNER
Today's chart highlights a company that's aiming to modernize the finance and accounting business…
Regular readers know one of our favorite ways to profit off any big trend is through "picks and shovels."
These are the companies that provide the tools, products, and services vital to the success of a long-term trends.
You can see this concept at work today with software developer BlackLine (BL), which offers cloud-based accounting and finance solutions to more than 1,800 companies worldwide…
One of BlackLine's primary advantages is its continuous accounting process.
You see, month- and quarter-end reporting can be a challenging task for businesses.
Many end up compiling weeks of data at a time… But by using BlackLine's platform, companies can continuously update their books each day, in the cloud.
As you can see below, shares of BlackLine have soared since the company's initial public offering ("IPO") at the end of October. Shares are up 120%… and just hit a fresh eight-month high. Businesses will always need accounting software and services. By creating a better "mouse trap," BlackLine has positioned itself to reap long-term rewards…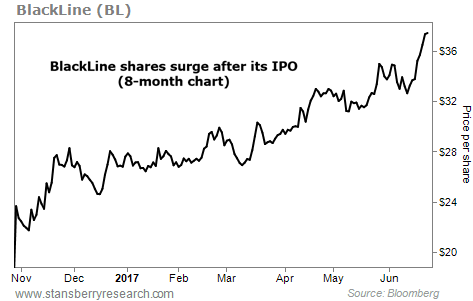 Claim a 100% Risk-Free Trial to DailyWealth Trader... [sponsor]
For a limited time, get immediate access to "the best of" Stansberry Research's trading ideas. As one reader said: "I am 11 for 11 so far... in less than 2 months." Learn more here.
Source: Daily Wealth's Market Notes