Despite closing lower on Thursday, traders should chalk up yesterday's trading session as a win for bulls. This is especially true for the tech sector and stocks like Paypal Holdings Inc (NASDAQ:PYPL), which ended with bullish hammer candles. We'll chronicle the reversal in full detail below, but here's the gist: Paypal stock is a buy right here.
To set the tone, let's first consider the action in the tech sector using the
PowerShares QQQ Trust, Series 1 (ETF) (NASDAQ:QQQ)
.
Following a nasty open and early morning plunge, buyers swooped in right at support and pushed prices higher for the rest of the day.
Virtually every other stock in the technology sector behaved similarly.
And while much work remains before QQQ reclaims all that was lost, Thursday's successful support test was certainly a start.
While it's probably worth dipping your toes into the water of any number of tech stocks here, it's PYPL stock that's catching my eye for two reasons.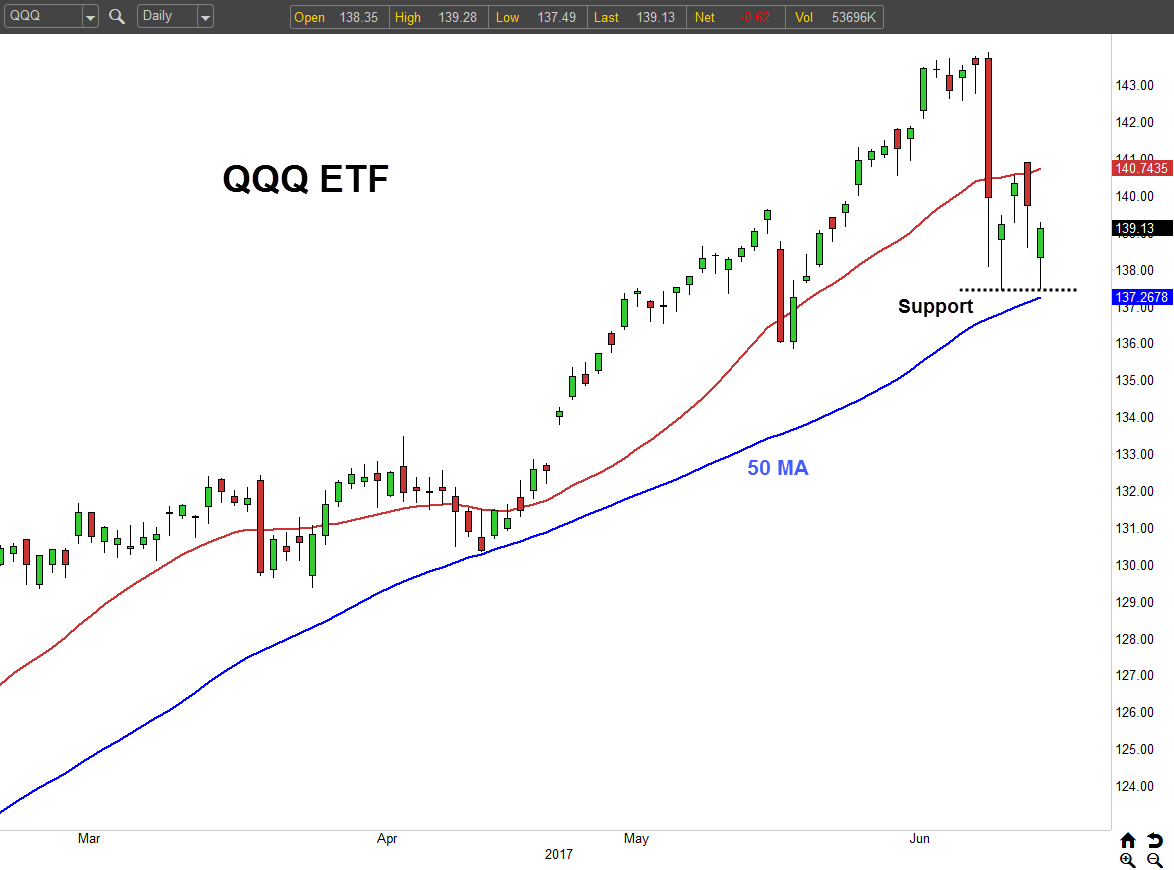 First, the stock's pullback is shallower than its peers. While many of the big winners in tech have slipped below critical support levels including the 50-day moving average, Paypal stock has yet to even close below its 20-day moving average.
That, friends, is relative strength.
Paypal Stock Charts
The second reason is related to the first — PYPL stock has one of the cleanest dip buy setups on the board. For starters, its uptrend increased in momentum during its last advance showing high enthusiasm from buyers.
Pullbacks following strong surges like this have a good chance of rebounding. And speaking of pullback, check out the dynamics of the last four days of selling. Note how each candlestick decreased in size showing a slowing in selling pressure. And then on Thursday the baton was finally passed to buyers. The resulting bullish hammer candle is now providing a clean level to trade against ($50.83).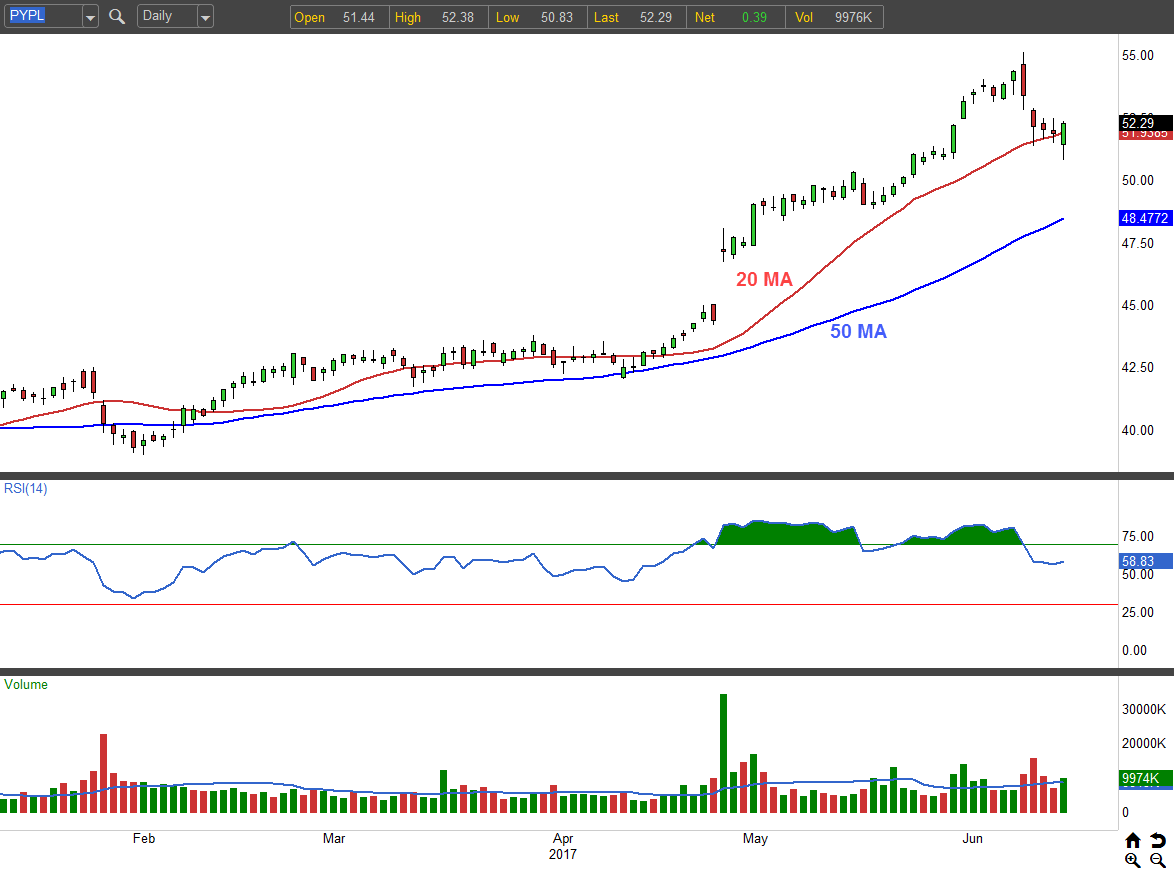 Another positive to Paypal's setup versus its peers is the posture of the RSI indicator. Chart watchers often split its scale into two halves. The upper half (50-100) is considered the bull zone and the lower half (0-50) is considered the bear zone.
Strong up-trending stocks should see the RSI remain north of 50. Although the occasional price drop may cause the RSI to test the lower end of the bull zone, it behooves the bulls to keep it above 50.
When a stock sells off enough to drive the RSI below the 50 area, it's a warning sign. You'll note Paypal's RSI sits just shy of 59. In contrast, Apple Inc. (NASDAQ:AAPL), Alphabet Inc (NASDAQ:GOOG, NASDAQ:GOOGL), Amazon.com, Inc. (NASDAQ:AMZN) and Netflix, Inc. (NASDAQ:NFLX) all have RSI readings in the 30's and 40's.
This is simply another way to illustrate the little amount of damage PYPL suffered during the recent sector rotation.
PYPL Stock Trade
Demand for Paypal options is on the rise. But this shouldn't be surprising. Implied volatility is ramping all across tech-land. So once again, I'm coming at you with a short premium play. If you think PYPL stock remains above $48 for the next month, sell the July $48 put option for 50 cents or better.
The market is pricing in an 83% chance that the put will sit out-of-the-money at expiration. Think of this as our probability of capturing the 50 cent max profit.
By selling the put, you obligate yourself to buy 100 shares of Paypal stock at an effective purchase price of $47.50 ($48 – 50 cents). If you're a willing buyer down there, then just allow assignment if the put option settles in-the-money at expiration. Otherwise, buy to close the put if PYPL stock breaks below $48.
— Tyler Craig
Join the $39 Trading Revolution – Plus 1 Month FREE!
[sponsor]
Short-term profits are now easy to grab. We DOUBLED our money in ONE day... and we're NOT day traders. It's a trading revolution, and it's long overdue.
Click here to grab your share of the profits… Plus, Get 1 Month of Free Trades!
Source: Investor Place