A BUSINESS STRUGGLING TO KEEP UP
Today, we take a look at a once-popular company fighting to keep its head above water…
Pandora Media (P) was one of the first music-streaming providers on the Internet. The service selects music and creates custom playlists based on its users' favorite bands and musicians.
The business quickly took off.
But since then, Pandora's management team has made several blunders.
The vast majority of its 80 million monthly users pay nothing to listen.
In March, Pandora launched a $9.99-per-month updated premium service.
But in the meantime, competitors Spotify and Apple Music have made full use of their paid plans and gobbled up huge chunks of the music-streaming industry.
All of this has dragged on Pandora's bottom line.
The company has reported its listenership has fallen in each of the last three quarters, while its competitors continue to rapidly grow their market shares. As a result, the stock has plummeted, falling around 70% over the last three years to its lowest level since late 2012. Unless Pandora manages to turn things around quickly, this once-popular stock will continue its freefall…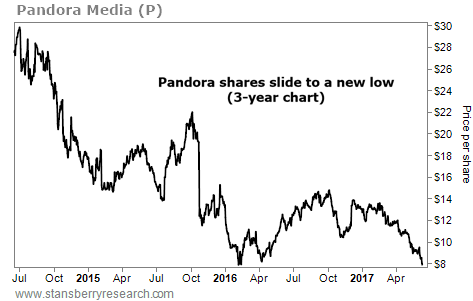 Claim a 100% Risk-Free Trial to DailyWealth Trader...
[sponsor]
For a limited time, get immediate access to "the best of" Stansberry Research's trading ideas. As one reader said: "I am 11 for 11 so far... in less than 2 months."
Learn more here.
Source: Daily Wealth's Market Notes