'CHINA'S PRICELINE' IS BREAKING OUT
Today, a look at the impressive performance in a company you've likely never heard of…
This week, our friend Peter Churchouse has been sharing his insights on why you should put your money to work in China today.
Regular DailyWealth readers know Steve is super-bullish on Chinese stocks, too. And for good reason…
We can see this by looking at shares of Ctrip.com (CTRP).
This company allows users to book travel arrangements on its website – plane tickets, hotel rooms, etc.
It's China's version of Priceline or Expedia.
And while you've probably never heard of it, the $30 billion Internet behemoth has a larger market cap than household names like Hershey, Dollar General, and Best Buy.
Because of its dominant market position, Ctrip.com shares have enjoyed huge gains over the years. This week, they touched a fresh, split-adjusted all-time high. And shares are up nearly 45% this year alone. If Steve and Peter are right, and Chinese stocks are in the early stages of a massive run higher, Ctrip.com will be one name to keep a close eye on…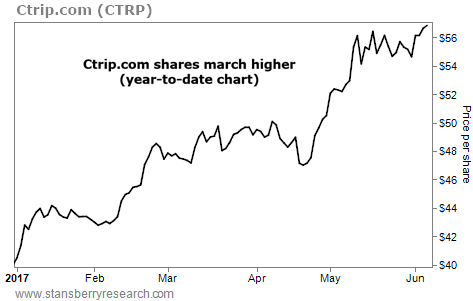 Claim a 100% Risk-Free Trial to DailyWealth Trader...
[sponsor]
For a limited time, get immediate access to "the best of" Stansberry Research's trading ideas. As one reader said: "I am 11 for 11 so far... in less than 2 months."
Learn more here.
Source: Daily Wealth's Market Notes