A NEW MILESTONE FOR THIS HOUSEHOLD FAVORITE
Today's chart highlights the huge rally in a home-entertainment giant…
Over the past few years, the television industry has seen big changes. Now, with a decent Internet connection, you can watch almost anything online.
Last month, we covered four stocks that have driven huge technological shifts in the ways we shop, socialize, and consume media.
But today, we'll focus solely on one company… Netflix (NFLX).
Netflix is an alternative to traditional cable.
The company uses the Internet to "stream" its content on demand to millions of homes worldwide.
And over the past few years, its subscriber base has exploded.
In 2007, the company provided its services to around 7 million subscribers.
But in April, Netflix reached a new milestone… 100 million subscribers. That's a massive 1,300%-plus spike.
As you can see, NFLX is in a steady uptrend. Shares recently broke out to an all-time high… and have risen nearly 65% over the past year. We can expect Netflix to hit many more milestones as the shift to online streaming continues…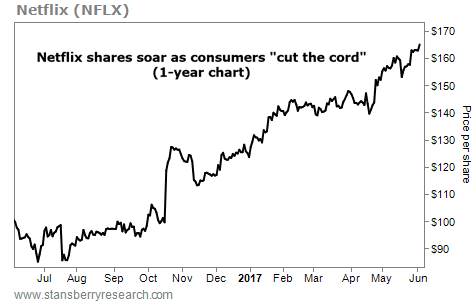 Claim a 100% Risk-Free Trial to DailyWealth Trader... [sponsor]
For a limited time, get immediate access to "the best of" Stansberry Research's trading ideas. As one reader said: "I am 11 for 11 so far... in less than 2 months." Learn more here.
Source: Daily Wealth's Market Notes