USE THIS STRATEGY TO FIND CONSISTENT WINNERS
Today's chart shows one of our favorite strategies at work… investing in companies with great brands.
When you think of ketchup or soda, there are probably one or two brands that immediately pop into your mind… And you've probably been buying the same one for years.
That's the enduring power of an elite brand.
These businesses thrive over time because of the loyalty of their customers.
They can even raise prices when they need to.
Today, we're highlighting this in the food industry…
Pinnacle Foods (PF) sells a variety of packaged goods…
The company's major brands include Birds Eye and Hungry-Man frozen foods, Duncan Hines cake mixes, Log Cabin and Aunt Jemima syrups, and Vlasic pickles, among others.
These kinds of products stay popular for decades. They generate billions of dollars in revenue, and they don't require additional spending from the company.
As you can see from the chart below, Pinnacle Foods has been in a solid uptrend. Shares recently broke out to an all-time high… and have risen nearly 45% in the past year alone. If you're looking for consistent winners in the stock market, enduring consumer brands are a great place to start…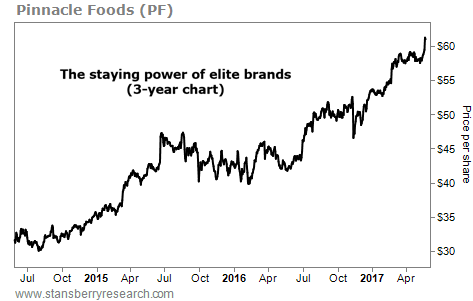 Claim a 100% Risk-Free Trial to DailyWealth Trader...
[sponsor]
For a limited time, get immediate access to "the best of" Stansberry Research's trading ideas. As one reader said: "I am 11 for 11 so far... in less than 2 months."
Learn more here.
Source: Daily Wealth's Market Notes