WINTER IS OVER, BUT THIS COMPANY KEEPS GOING UP
Today's chart highlight's one of our favorite gauges of consumer confidence…
Regular readers know we look at several sectors that tell us what's going on in the U.S. economy. In the past, we've discussed how cruise lines, hotels, and outdoor equipment can show us a lot about the confidence of American consumers.
And that's true for the ski business, too.
Add up the costs of equipment, winter clothing, lift tickets, hotels, and food… and you can see that when people are skiing more often, it's a good sign the American economy is doing well, too.
For proof, we'll look at popular ski-resort operator Vail Resorts (MTN).
The company owns resort hotels in the U.S., Australia, and Canada… And its ongoing expansion is paying off.
In its second-quarter results, Vail reported a nearly 25% increase in lift revenue and a nearly 16% rise in visitation compared with the same period last year.
As you can see below, Vail has been enjoying long-term success. Shares are up nearly 400% over the past five years and are now trading at new all-time highs. It's a sign that things are going well in the U.S. economy…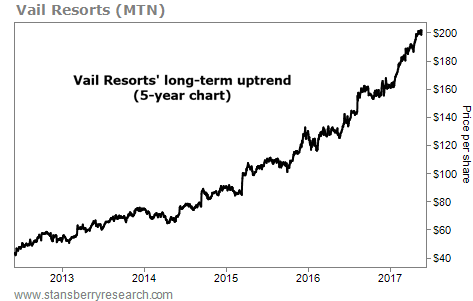 Claim a 100% Risk-Free Trial to DailyWealth Trader...
[sponsor]
For a limited time, get immediate access to "the best of" Stansberry Research's trading ideas. As one reader said: "I am 11 for 11 so far... in less than 2 months."
Learn more here.
Source: Daily Wealth's Market Notes