THIS CAPITAL-EFFICIENT HOMEBUILDER IS SOARING
Today, we revisit one of the most powerful concepts of investing: owning capital-efficient businesses…
Porter Stansberry has written about the benefits of capital efficiency many times over the years (you can learn more here and here).
These companies generate high returns on capital without ongoing expenditures on things like machinery, maintenance, or research and development.
And their strong customer loyalty means they can gradually raise prices when they need to… which allows them to return more money to shareholders.
One of Porter's favorite examples is homebuilder NVR (NVR).
NVR is the most capital-efficient homebuilder in America.
It stayed profitable throughout the housing crisis.
Even if you had bought NVR at the worst possible time (at its peak in 2005, just before the crisis began), you still would have nearly doubled your money in 10 years. It's a classic example of how capital efficiency builds a "moat" around a business.
As you can see below, NVR's success is continuing today. Shares are up 36% this year. Longer term, the stock has soared nearly 200% over the past five years. You can see why Porter has called capital efficiency "the single greatest investment secret ever discovered"…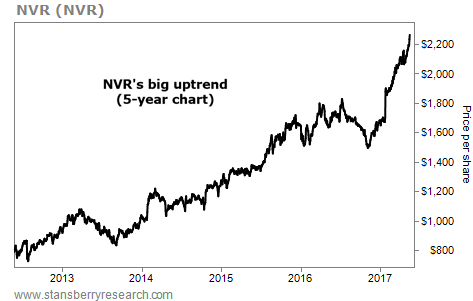 Claim a 100% Risk-Free Trial to DailyWealth Trader... [sponsor]
For a limited time, get immediate access to "the best of" Stansberry Research's trading ideas. As one reader said: "I am 11 for 11 so far... in less than 2 months." Learn more here.
Source: Daily Wealth's Market Notes