A SOARING 'PICKS AND SHOVELS' PLAY IN TECH
Today, we'll check in on one of this year's top-performing stocks…
Regular readers know one of our favorite ways to profit off any trend is through "picks and shovels."
These companies provide the tools, products, and services vital to the success of long-term trends.
Today, we'll look at this idea in the semiconductor business…
Semiconductors power most of the electronics we use today.
But they are expensive and difficult to make.
So lots of big companies – like Facebook, Google, and Microsoft – outsource that work to other suppliers.
One of the leaders in the space is Nvidia (NVDA)… The company's computer chips are in everything from video-game hardware to cellphones.
Nvidia is also at the forefront of several technological revolutions that may soon change the way we live (like virtual reality and self-driving cars).
Our colleague Dave Lashmet told his Stansberry Venture Technology subscribers to buy shares last year. Now, shares are hitting new all-time highs – and Dave's subscribers are up 145%. This is one picks-and-shovels play you'll want to keep an eye on…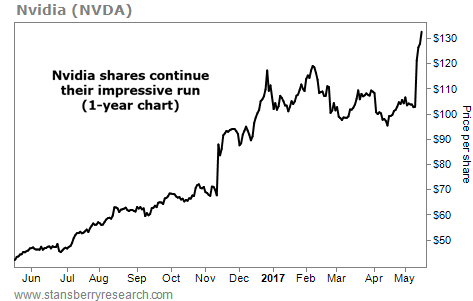 Claim a 100% Risk-Free Trial to DailyWealth Trader... [sponsor]
For a limited time, get immediate access to "the best of" Stansberry Research's trading ideas. As one reader said: "I am 11 for 11 so far... in less than 2 months." Learn more here.
Source: Daily Wealth's Market Notes