Today's chart highlights a huge rally in the tech sector…
Regular readers know we are always looking for big secular trends to invest in, such as major advancements in technology. And in recent years, one of the fastest-growing tech developments has been 3D printing.
If you're not familiar, rather than conventional "on paper" printing, 3D printing manufactures solid objects (like a prosthetic arm, or even a house).
One of the main players in this space is 3D Systems (DDD).
The company makes 3D printers, as well as 3D-printing materials and software.
Its technology is used to design, refine, and create products like tools, parts for cars and airplanes, medical devices, and even human tissues.
Our colleague Ben Morris told his DailyWealth Trader subscribers to buy shares last year.
As you can see in the chart below, the stock has surged recently… 3D Systems recently announced two new software releases, which it expects will significantly improve productivity and lower costs. Shares are hitting a new 52-week high – and Ben's subscribers are enjoying the uptrend. This is one tech trend you'll want to keep an eye on…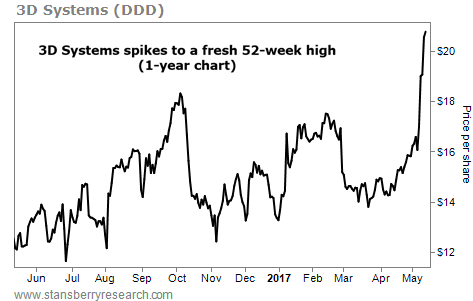 Claim a 100% Risk-Free Trial to DailyWealth Trader... [sponsor]
For a limited time, get immediate access to "the best of" Stansberry Research's trading ideas. As one reader said: "I am 11 for 11 so far... in less than 2 months." Learn more here.
Source: Daily Wealth's Market Notes