AN UNPOPULAR BUT PROFITABLE STRATEGY
Today, we revisit the idea of "investing in vice"…
Longtime DailyWealth readers know we've highlighted the power of investing in companies that sell habit-forming (or even addictive) products, like soda, coffee, and alcohol.
People buy these products, drink them, then go out and buy more.
Most companies who sell addictive products enjoy the benefit of repeat customers.
For proof, we'll look to two other addictive products – cigarettes and fast food.
Phillip Morris (PM) is a $178 billion tobacco giant.
The company owns popular cigarette brands Marlboro, Benson & Hedges, and Parliament.
McDonald's (MCD) needs little introduction. The $108 billion fast-food behemoth sold $25 billion worth of its popular burgers and fries last year alone.
In the chart below, you can see the steady uptrends in PM and MCD shares. Shares are up around 210% and 145%, respectively, over the last eight years, and both are trading at new all-time highs. It may not be popular, but buying companies that sell addictive products continues to be an excellent long-term investment strategy…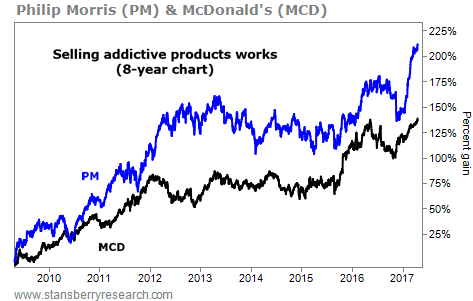 Claim a 100% Risk-Free Trial to DailyWealth Trader...
[sponsor]
For a limited time, get immediate access to "the best of" Stansberry Research's trading ideas. As one reader said: "I am 11 for 11 so far... in less than 2 months."
Learn more here.
Source: Daily Wealth's Market Notes