A 'BAD TO LESS BAD' RALLY FOR THIS FORMER MARKET DARLING
One of the most popular restaurant chains in the U.S. is finally starting to turn things around…
Chipotle Mexican Grill (CMG) used to be one of the fastest-growing chains in the U.S.
But after a handful of concerns regarding foodborne-illness outbreaks, analysts downgraded the stock as customers chose other options.
Same-store sales plunged more than 20%. But that downtrend is slowing…
Last quarter, Chipotle's same-store sales fell only 5%.
The company is still a high-quality, well-run business and continues to turn an impressive profit on a per-location basis.
And now, its shares have rallied as things have gone from "bad to less bad."
As the food-safety concerns have subsided, customers are returning to their favorite burrito chain. Although shares are still well off their 2015 highs, the stock has rebounded more than 30% since its November lows. It's a reminder that even the best businesses suffer temporary setbacks from time to time…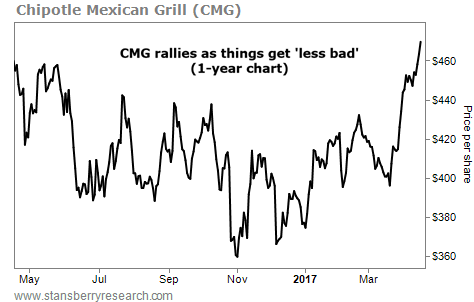 Claim a 100% Risk-Free Trial to DailyWealth Trader...
[sponsor]
For a limited time, get immediate access to "the best of" Stansberry Research's trading ideas. As one reader said: "I am 11 for 11 so far... in less than 2 months."
Learn more here.
Source: Daily Wealth's Market Notes