TRIPLE-DIGIT GAINS IN THIS 'BASICS' WINNER
Today, we're highlighting the power of everyday brands that dominate their markets…
We've looked at this strategy a lot over the years in DailyWealth because it works.
We've shown you why investing in businesses that sell basic staples – everything from lumber to cleaning supplies to power tools – can be a winning strategy, even if it isn't "flashy" and exciting.
Prestige Brands (PBH) owns dozens of health and household cleaning products you probably have in your home without even realizing it.
From eye care (Clear Eyes) and dental care (Efferdent) to household cleaners (Comet), Prestige Brands' products tend to have large market shares and are available everywhere, even at your corner store.
Prestige has enjoyed an impressive long-term uptrend.
Shares have more than doubled over the last three years alone, and they've soared nearly 225% over the last five years.
Cleaning products and eye drops may not be exciting, but it's clear that buying the basics works.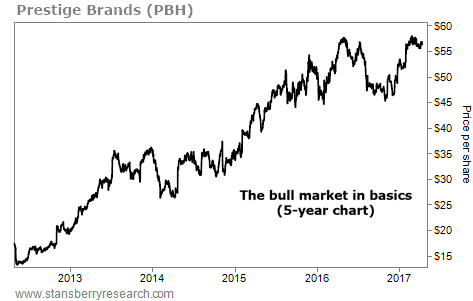 Claim a 100% Risk-Free Trial to DailyWealth Trader...
[sponsor]
For a limited time, get immediate access to "the best of" Stansberry Research's trading ideas. As one reader said: "I am 11 for 11 so far... in less than 2 months."
Learn more here.
Source: Daily Wealth's Market Notes