A 'GLOBAL ELITE' AGRICULTURE GIANT REBOUNDS
Today's chart highlights a leader in its industry…
Monsanto (MON) is a $51 billion global agriculture giant. The controversial company produces seeds and develops chemicals to help farmers control weeds and insects. It was also one of the first companies to develop genetically modified organisms ("GMOs").
Like it or hate it, Monsanto is one of the stock market's ultimate "food plays."
Its products massively increase crop yields.
In countries where farmland is starved for nutrients and water, Monsanto seeds are an attractive choice.
The company also has strong profit margins and free cash flows.
Porter and his team call these kinds of businesses the "Global Elite" – financial powerhouses that dominate their markets with indispensable products.
In December 2015, Porter's team recommended the stock in Stansberry's Investment Advisory.
Back then, Monsanto shares were cheap… It was a great opportunity to buy one of the Global Elite at a low price. Now, shares are trading at fresh 52-week highs. Readers who followed Porter's advice are sitting on nearly 20% gains. Congratulations to Porter on another great pick…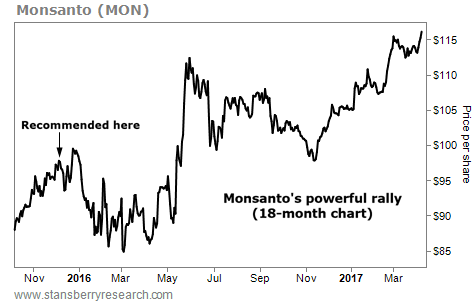 Claim a 100% Risk-Free Trial to DailyWealth Trader... [sponsor]
For a limited time, get immediate access to "the best of" Stansberry Research's trading ideas. As one reader said: "I am 11 for 11 so far... in less than 2 months." Learn more here.
Source: Daily Wealth's Market Notes