THIS COMPANY CONTINUES ITS LONG-TERM UPTREND
Today, we're giving kudos to our colleague Dave Eifrig…
Last June, Dave told his Retirement Millionaire subscribers to buy shares of tire-maker Goodyear Tire & Rubber (GT). The company was in the midst of a turnaround, focusing on higher-end tires and cutting costs.
As a result, Goodyear became a smaller company… but a more profitable one.
Meanwhile, a long-term bear market in global commodities had pushed prices of raw materials lower.
And low gas prices meant Americans were driving more than ever before.
These factors, Dave said, were creating a tailwind for Goodyear shares.
As you can see from the chart below, not only was his call correct, it was well-timed, too.
Yesterday, the stock hit its highest level since the financial crisis. Shares are locked into an impressive uptrend, up nearly 180% in the last four years alone. And Dave's readers are up more than 30% since his June recommendation.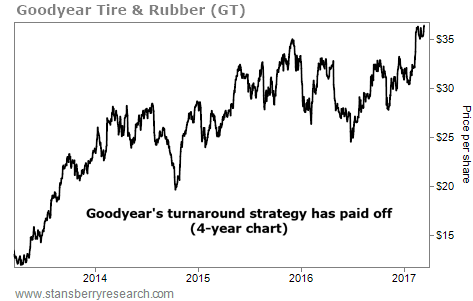 Claim a 100% Risk-Free Trial to DailyWealth Trader... [sponsor]
For a limited time, get immediate access to "the best of" Stansberry Research's trading ideas. As one reader said: "I am 11 for 11 so far... in less than 2 months." Learn more here.
Source: Daily Wealth's Market Notes