THIS BLUE-CHIP RETAILER CONTINUES TO TUMBLE
Today's chart proves that even high-quality businesses sometimes go through rough patches…
We're taking a close look at blue-chip retail titan Target (TGT). The $30 billion company is one of the top retailers in the U.S.
Over the last year, it recorded $70 billion in sales.
It also rewards shareholders, having increased its dividend every year for more than four decades.
But even Target isn't immune to a pullback.
Earlier this year, it reported earnings that fell short of analyst expectations.
Facing increased competition from uber-successful online retailer Amazon (AMZN), Target's fourth-quarter sales were weaker than expected.
As you can see from the following chart, investors have been running for the exits… Target shares are down nearly 25% through the first quarter of 2017 and are now trading at their lowest levels in nearly five years. After the selloff, the stock yields a huge 4.4%. But until Target shows it's turning things around for the better, shares may continue to drift lower…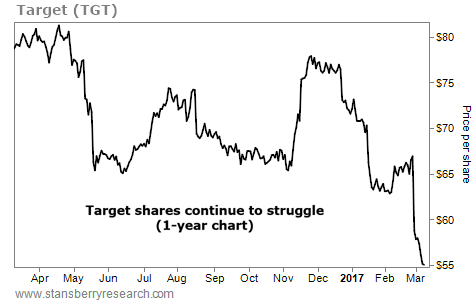 Claim a 100% Risk-Free Trial to DailyWealth Trader...
[sponsor]
For a limited time, get immediate access to "the best of" Stansberry Research's trading ideas. As one reader said: "I am 11 for 11 so far... in less than 2 months."
Learn more here.
Source: Daily Wealth's Market Notes