THIS 'BOOM AND BUST' SECTOR IS IN BOOM MODE
Today, we check in on one of the most volatile sectors in the market.
We're talking about airlines. Because of their razor-thin profit margins, exposure to swings in fuel costs, and massive capital expenditures required to keep their businesses running, airlines typically make for poor long-term investments.
But they can also be traded for big profits when they enter "boom" mode.
That's what we're seeing right now.
Consider shares of major airline Southwest Airlines (LUV).
The $37 billion company is the largest domestic airline, serving more than 100 million customers annually in more than 100 locations in the U.S.
Right now, low oil prices have helped push Southwest shares to their highest level in more than 30 years.
They're up more than 160% over the last three years alone. While things are in boom mode for this airline stock, it's important to remember that when it comes to airlines, "rent, don't buy."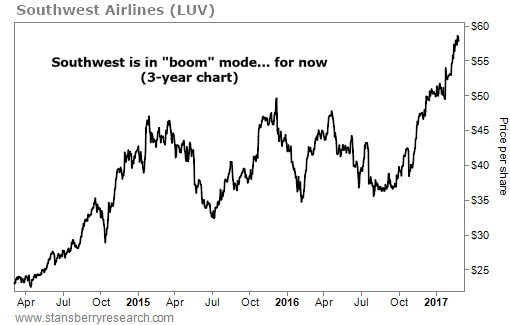 Claim a 100% Risk-Free Trial to DailyWealth Trader... [sponsor]
For a limited time, get immediate access to "the best of" Stansberry Research's trading ideas. As one reader said: "I am 11 for 11 so far... in less than 2 months." Learn more here.
Source: Daily Wealth's Market Notes