A BULLISH SIGN FOR THE U.S. ECONOMY
Today, we take a peek into America's wallet…
Regular readers know we keep a close eye on certain economic "bellwethers" to help gauge the temperature of the U.S. economy.
The share-price strength of things like hotels, retailers, and swimming pools can tell us a lot about how American consumers are feeling.
Another trusty indicator is credit-card giant Visa (V).
The company has issued nearly 3 billion credit cards.
It takes a tiny percentage of more than 100 billion transactions a year.
And as more people around the country swipe their Visa cards, the company enjoys bigger and bigger profits.
Over time, that has translated into huge gains for Visa shares. The stock is up nearly 400% over the last six years and recently hit a fresh all-time high. As long as Americans continue to reach for their wallets, this is a long-term uptrend that should continue. And that's good news for the U.S. economy…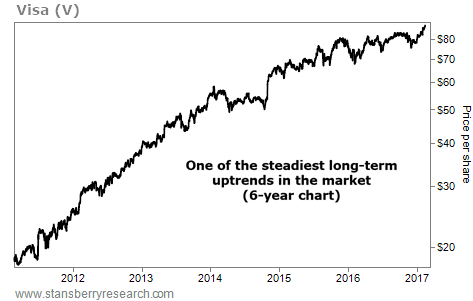 Claim a 100% Risk-Free Trial to DailyWealth Trader...
[sponsor]
For a limited time, get immediate access to "the best of" Stansberry Research's trading ideas. As one reader said: "I am 11 for 11 so far... in less than 2 months."
Learn more here.
Source: Daily Wealth's Market Notes