A STRUGGLING ELITE BRAND
Today's chart highlights the effects of a weak holiday shopping season…
Last week, a slew of retailers reported holiday sales figures that were well below previous forecasts.
Both
Macy's (M)
and
Kohl's (KSS)
same-store sales fell 2.1% in November and December compared with the same period in 2015.
The weak sales figures are also damaging retail suppliers… like VF Corporation (VFC), a $21 billion apparel-industry giant.
This company combines the earnings power of JanSport backpacks, Lee jeans, The North Face outdoor apparel, Timberland boots and clothing, Vans sneakers, and more.
But investors are concerned that weak retail sales will mean smaller orders for the company.
Shares dropped 20% from their August peak and are now trading at a new 52-week low.
VF Corp is a great business with strong and durable brands. If shares rebound, it's a stock you should have on your watch list…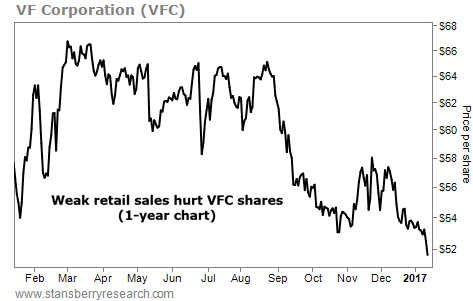 Claim a 100% Risk-Free Trial to DailyWealth Trader...
[sponsor]
For a limited time, get immediate access to "the best of" Stansberry Research's trading ideas. As one reader said: "I am 11 for 11 so far... in less than 2 months."
Learn more here.
Source: Daily Wealth's Market Notes