Today's chart highlights why you should buy great businesses at good prices…
For proof, we look at credit-card provider American Express (AXP). The company is a $70 billion giant. About 118 million American Express cards are in use around the world, with cardholders racking up more than $1 trillion in charges every single year.
American Express shares started falling in early 2015 after it lost its partnership with warehouse retailer
Costco (COST)
.
The loss was big… but the market overreacted.
As soon as things improved at the company, investors started coming back to this powerful brand…
On some valuation metrics, American Express was cheaper at the end of last year than it was after the 2008-2009 financial crisis.
Our Stansberry's Investment Advisory team jumped at the opportunity, recommending the stock in August. Now, they're sitting on 20% gains… and shares are at fresh 52-week highs. Once again, buying great businesses at good prices is a winning strategy…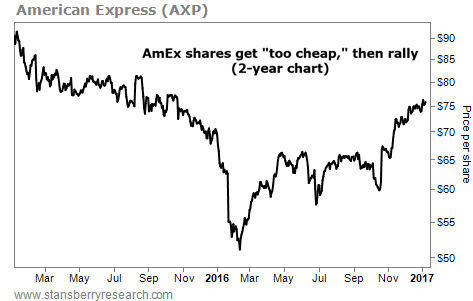 Sponsored Link: In DailyWealth Trader, we have all the tools you need to start generating big income from selling options, including an extensive "training center" that houses thousands of dollars' worth of educational material... daily Q&A sessions... and a large video archive. You can learn more about DailyWealth Trader right here.
Source: Daily Wealth's Market Notes