SMALL BANKS ARE SKYROCKETING
Last November, we discussed the huge rally in the financial sector…
Regular DailyWealth readers know we monitor America's big banks, like JPMorgan (JPM), Bank of America (BAC), and Citigroup (C). These firms are America's "financial backbone."
They rise and fall with America's ability to make money, save money, service debts, and generally "just get along."
Regional banks like M&T Bank (MTB) – which operates in the mid-Atlantic and northeastern U.S. – tend to amplify the results of the big banks.
When big banks rise, smaller banks rise more (and vice versa).
With global interest rates on the rise, smaller banks are surging…
As you can see in the chart below, MTB shares have thrived over the past year, recently hitting a new all-time high.
They're up nearly 60% from their February lows. With three additional interest-rate hikes expected this year, M&T Bank shares ought to continue their uptrend…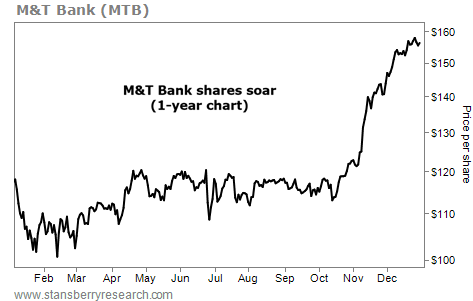 Sponsored Link: In DailyWealth Trader, we have all the tools you need to start generating big income from selling options, including an extensive "training center" that houses thousands of dollars' worth of educational material... daily Q&A sessions... and a large video archive. You can learn more about DailyWealth Trader right here.
Source: Daily Wealth's Market Notes