AN UPDATE ON 'THE WORLD'S GREATEST BUSINESS'
Today's chart is further proof of what Porter calls "the world's greatest business"…
Regular DailyWealth readers know we often sing the praises of insurance companies. These companies collect premiums from their customers.
The best-run companies enjoy premiums that exceed what they have to pay out in claims.
They're able to invest all that money – called the "float."
A great example of this business model at work is W.R. Berkley (WRB).
The $8 billion industry titan is better than most of its peers at collecting more than it has to pay out.
And the company's founder – Bill Berkley – still owns a large stake in the firm.
As you can see below, WRB shares are in a long-term uptrend that's showing no signs of slowing down. It's easy to see why Porter says insurance companies are the only investment he hopes his kids ever make…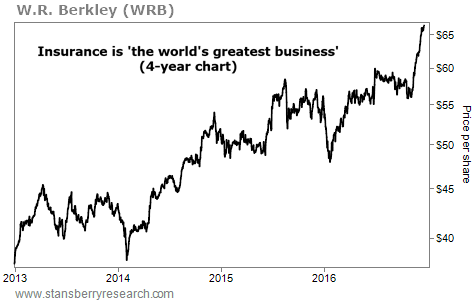 Sponsored Link: In DailyWealth Trader, we have all the tools you need to start generating big income from selling options, including an extensive "training center" that houses thousands of dollars' worth of educational material... daily Q&A sessions... and a large video archive. You can learn more about DailyWealth Trader right here.
Source: Daily Wealth's Market Notes