Carnival Corp (NYSE:CCL) was my "Trade of the Day" on Oct. 3. With a target of $55, however I noted that if the December 2015 high at $55 was exceeded, CCL stock could trade much higher.
On Dec. 5, 2016, S&P heightened its opinion to a "Five-Star Buy" and increased its price target by $7 to $62. The price target is comparable to its ten-year forward average price-earnings of 15.7.
S&P believes that the small premium to its peers (11.2) is justified because of the company's position as the lead in the global cruise ship business.
In addition, they forecast that lower fuel costs and spending will result in better profit margins and continue into FY17 (Nov).
Furthermore, its management is considered one of the best in the industry, confirming that its FY16 net revenue yields are on target to be up 3.5%.
S&P noted that based on the current trend of bookings, FY16 revenues could grow at 8% because of increased ticket prices and higher onboard spending.
If CCL is able to penetrate the resistance line at $53.50, it will complete a bullish saucer. Another long-term positive signal, a Golden Cross, was executed in November when the 50-day moving average crossed over its 200-day moving average. Above the cross is a 45-degree support line connecting the October low to the November and December lows, which is the stock's immediate support line.
Volume is in a positive accumulation phase, and MACD is moving up, a strong positive. In anticipation of a breakout at the resistance line at $53.50, buy CCL stock at the current market with a trading target of $62. Investors may want to take positions in CCL for participation in the travel sector for potentially longer-term returns.
— Sam Collins, Trade of the Day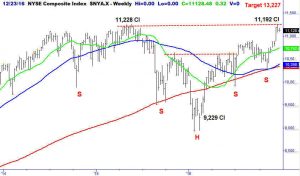 Join the $39 Trading Revolution – Plus 1 Month FREE!
[sponsor]
Short-term profits are now easy to grab. We DOUBLED our money in ONE day... and we're NOT day traders. It's a trading revolution, and it's long overdue.
Click here to grab your share of the profits… Plus, Get 1 Month of Free Trades!
Source: Investor Place