THE 'PICKS AND SHOVELS' OF THE TECH INDUSTRY
Today, another look at the power of investing in "picks and shovels"…
Longtime DailyWealth readers know we often extol the virtues of investing in picks and shovels. These are the companies that sell equipment and services that are vital in their industries.
One good example is
Nvidia (NVDA)
.
The semiconductor company counts Alibaba, Amazon, Facebook, Google, and Microsoft among its biggest clients.
Its computer chips are in everything from video games to smart cars.
And it has a head start on the booming world of virtual reality.
As you can see, business has been good for Nvidia.
Over the last year, the company grew its revenues by more than 30% and its earnings per share by more than 70%. So it should come as no surprise that shares are on the rise. Nvidia stock is one of the biggest winners of the year, up more than 225% in 2016 alone.
It's more proof that investing in "picks and shovels" works…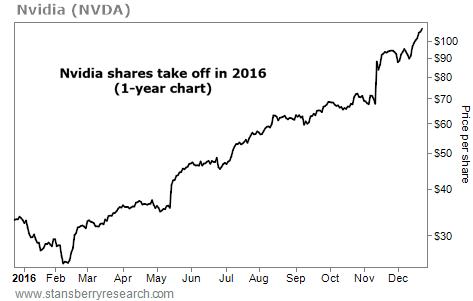 Claim a 100% Risk-Free Trial to DailyWealth Trader... [sponsor]
For a limited time, get immediate access to "the best of" Stansberry Research's trading ideas. As one reader said: "I am 11 for 11 so far... in less than 2 months." Learn more here.
Source: Daily Wealth's Market Notes