THE BULL MARKET IN WASTE DISPOSAL
Today, we take a look at one of the market's least talked about uptrends…
Longtime readers know we're fans of "boring" businesses that provide products and services that folks will always need. These businesses don't garner much attention in the financial headlines.
Take
Waste Management (WM)
as an example…
The $31 billion trash and recycling giant is North America's leading waste-disposal company.
It provides a valuable service in an industry that is always in demand, regardless of what is going on in the White House or with interest rates.
This "always in demand" business model has treated shareholders well.
WM shares are up nearly 35% over the last year, vastly outperforming the S&P 500.
The company has been able to grow its dividend every year for the last dozen years and recently announced a $750 million share-repurchase program. As long as people still generate tons of trash every year, Waste Management's uptrend isn't going away…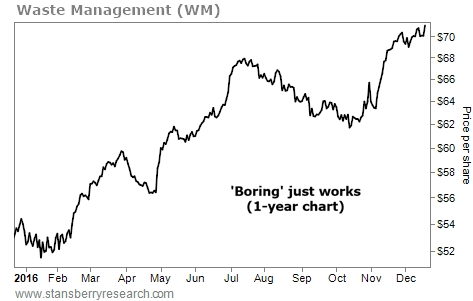 Claim a 100% Risk-Free Trial to DailyWealth Trader... [sponsor]
For a limited time, get immediate access to "the best of" Stansberry Research's trading ideas. As one reader said: "I am 11 for 11 so far... in less than 2 months." Learn more here.
Source: Daily Wealth's Market Notes