ANOTHER REMINDER THAT THE ECONOMY IS STRONG
Today's chart is another sign of strength for the global economy…
Recently, we've shown how strength in recreational vehicles, travel, and swimming pools are all healthy signs for the economy.
As long as these real-world indicators are enjoying booming profits and rising share prices, the economy can't be in the dumps.
Today, we have another addition to the list: airplanes.
Air travel is a good "health gauge" for the economy.
When all of the middle seats are filled on a flight, it's a sign that businesses are busy… And people are traveling.
Boeing (BA) is the world's largest manufacturer of commercial jets. The company profits as travel increases and global airlines buy more planes. Earlier this week, Boeing announced a 30% increase to its annual dividend and a huge new $14 billion share-buyback program.
As you can see in the chart below, business is good for Boeing. Shares are up more than 40% from their February lows and recently hit a new all-time high. It's another sign that while things may not be perfect, they can't be all that bad, either…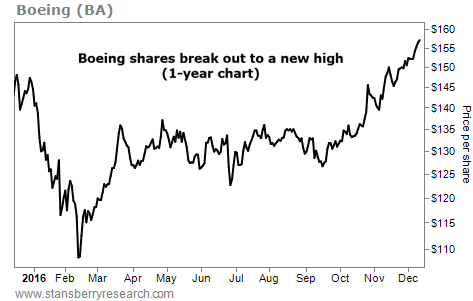 Claim a 100% Risk-Free Trial to DailyWealth Trader... [sponsor]
For a limited time, get immediate access to "the best of" Stansberry Research's trading ideas. As one reader said: "I am 11 for 11 so far... in less than 2 months." Learn more here.
Source: Daily Wealth's Market Notes