THIS LITTLE-KNOWN RESOURCE COMPANY IS SURGING
Today, an update on one of resource expert Matt Badiali's best calls of the year…
Back in January, Matt returned from a trip to Texas, where he witnessed the toll that low oil prices were taking on the area.
He told
Growth Stock Wire
readers that one company was set to benefit from the "
graveyard of inactive oil-drilling rigs
" he saw there.
He was talking about Ritchie Bros. Auctioneers (RBA).
As long as oil prices remained low, many oil producers would be forced to sell their unused equipment.
The more equipment that changed hands, the more money made its way into the pockets of Ritchie Bros. (and its shareholders).
As you can see from the chart below, Matt's call was spot-on.
Since his essay in mid-January, RBA shares are up nearly 80%. Earlier this week, they hit an all-time high. Kudos to Matt on the impressive call…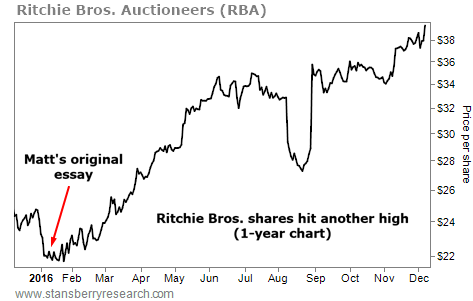 Claim a 100% Risk-Free Trial to DailyWealth Trader... [sponsor]
For a limited time, get immediate access to "the best of" Stansberry Research's trading ideas. As one reader said: "I am 11 for 11 so far... in less than 2 months." Learn more here.
Source: Daily Wealth's Market Notes