Yesterday, we noted that the soaring share price of Thor Industries was a clear sign that the U.S. economy isn't in the dumps. But what about the global economy?
Today's chart of Caterpillar (CAT) gives us some insight…
Caterpillar – commonly known as "Cat" – is the world's largest maker of construction and mining equipment.
These are the tools used to build bridges, airports, roads, shopping malls, homes, and more.
Like Thor Industries, Cat's share price rises and falls with economic activity.
With the election behind us, investors are expecting massive infrastructure projects in the U.S. Caterpillar is a one-stop shop for everything the government needs to complete these projects…
This year, investors have poured money into the stock, sending shares from $60 to $97, a new 52-week high. This gives us another reason to believe things can't be all that bad…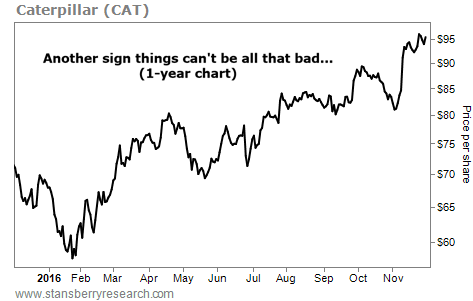 Sponsored Link: In DailyWealth Trader, we have all the tools you need to start generating big income from selling options, including an extensive "training center" that houses thousands of dollars' worth of educational material... daily Q&A sessions... and a large video archive. You can learn more about DailyWealth Trader right here.
Source: Daily Wealth's Market Notes