A SIGN THAT THE U.S. ECONOMY IS HEALTHY
One manufacturer is soaring… and that's good for America.
Over the past few years, we've featured dozens of charts that show the U.S. economy is doing better than the pessimists would have you think. Many of these charts come from our "real world" economic indicators… like the share price of Harley-Davidson and Pool Corp.
Another stock worth mentioning here is
Thor Industries (THO)
…
Thor is America's largest recreational vehicle (RV) manufacturer.
Like motorcycles and backyard swimming pools, RVs are a "want," not a "need."
RV sales rise and fall with America's ability to spend extra cash on road trips.
As you can see from the following chart, Thor shares have doubled this year alone, hitting a new all-time high this week.
The U.S. economy will eventually enter another recession. But if stocks like Thor are hitting new highs, it's a clear sign we aren't in one right now…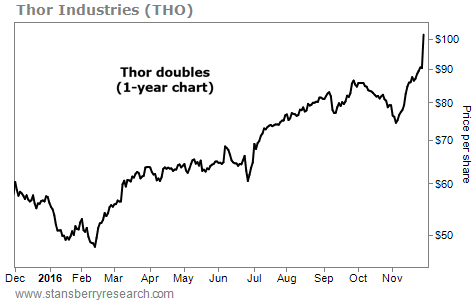 Claim a 100% Risk-Free Trial to DailyWealth Trader... [sponsor]
For a limited time, get immediate access to "the best of" Stansberry Research's trading ideas. As one reader said: "I am 11 for 11 so far... in less than 2 months." Learn more here.
Source: Daily Wealth's Market Notes