THIS PHARAMCY GIANT SELLS OFF
Today's chart highlights a struggling pharmacy…
CVS Health (CVS) is a $78 billion retail and health care company. Its 9,600-plus locations make it one of the largest retail drugstores in the world.
And with more than 5 million customers visiting its U.S.-based stores, it's the largest pharmacy benefit manager in the nation.
But lately, its business has hit a rough patch.
[Early last week], in its quarterly earnings release, the company lowered its 2017 profit guidance.
In short, CVS expects to lose more than 40 million customers due to increased competition.
Investors have bailed on the company, sending shares to a new two-year low.
They're down nearly 30% from their May high. Unless its sales and profits improve in the coming quarters, CVS shares are likely to continue lower…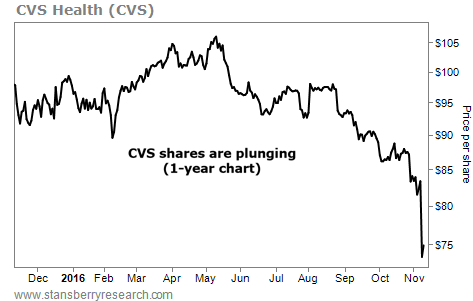 Sponsored Link: In DailyWealth Trader, we have all the tools you need to start generating big income from selling options, including an extensive "training center" that houses thousands of dollars' worth of educational material... daily Q&A sessions... and a large video archive. You can learn more about DailyWealth Trader right here.
Source: Daily Wealth's Market Notes