ANOTHER COLLAPSE IN SOLAR STOCKS
Today, a reminder why we repeatedly warn investors to avoid "clean energy" stocks. We're looking at the recent collapse in First Solar (FSLR).
Over the past couple of years, we've shown you why going long solar, wind, and various other companies in this sector continues to be a losing game.
Regular readers know we like to call clean-energy businesses "perfectly hedged"… meaning they can lose money in both good
and
bad economic times.
Their share prices are able to sink in both bull and bear markets.
We typically point to the constantly terrible performance of the big "clean-energy fund" (PBW) to illustrate our point.
But today, we look at the market action of First Solar… a stock that was once the poster child of clean energy. It's a stock that Porter Stansberry has long labeled a "disaster in waiting."
As you can see below, First Solar has seen its share price collapse (again) this year, down nearly 50% since March… and just hit its lowest level in more than two years. The message is clear: "Clean energy" is still a risky bet…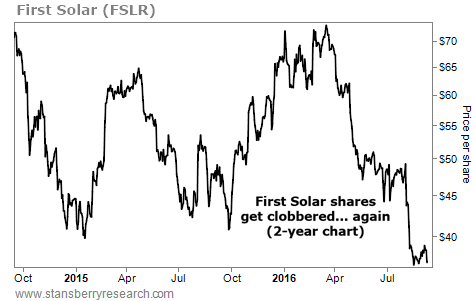 Claim a 100% Risk-Free Trial to DailyWealth Trader... [sponsor]
For a limited time, get immediate access to "the best of" Stansberry Research's trading ideas. As one reader said: "I am 11 for 11 so far... in less than 2 months." Learn more here.
Source: Daily Wealth's Market Notes